{"id":4770165653575,"title":"Multi-Bike Lifter","handle":"multi-bike-lifter","description":"\u003cdiv class=\"shogun-root\" data-shogun-id=\"5f84b9bfd5d2230090cbba76\" data-shogun-site-id=\"57e0dc25-ccaa-4d93-bab1-871a60bdbf1e\" data-shogun-page-id=\"5f84b9bfd5d2230090cbba76\" data-shogun-page-version-id=\"61a7e191155c2600db852fde\" data-shogun-platform-type=\"shopify\" data-shogun-variant-id=\"61a7e191155c2600db853286\" data-region=\"main\"\u003e\n \n\u003cscript type=\"text\/javascript\" src=\"https:\/\/lib.getshogun.com\/lazysizes\/2.0.0\/shogun-lazysizes.js\" async\u003e\u003c\/script\u003e\n\n\u003cdiv id=\"s-f1f43e76-864a-49c3-85e5-470717e04613\" class=\"shg-c \"\u003e\n \u003cdiv class=\"shg-rich-text shg-theme-text-content\"\u003e\n\u003cdiv class=\"product-block product-block--tab\"\u003e\n\u003cdiv class=\"collapsibles-wrapper collapsibles-wrapper--border-bottom\"\u003e\n\u003cdiv id=\"Product-content-description6668814287035\" class=\"collapsible-content collapsible-content--all is-open\"\u003e\n\u003cdiv class=\"collapsible-content__inner rte\"\u003e\n\u003cdiv class=\"shogun-root\" data-sanitized-data-region=\"main\" data-region=\"main\" data-sanitized-data-shogun-variant-id=\"61a2523b4c174700d12ac03e\" data-shogun-variant-id=\"61a2523b4c174700d12ac03e\" data-sanitized-data-shogun-platform-type=\"shopify\" data-shogun-platform-type=\"shopify\" data-sanitized-data-shogun-page-version-id=\"61a2523b4c174700d12abe52\" data-shogun-page-version-id=\"61a2523b4c174700d12abe52\" data-sanitized-data-shogun-page-id=\"60c86ecf4bd1ec00d07538af\" data-shogun-page-id=\"60c86ecf4bd1ec00d07538af\" data-sanitized-data-shogun-site-id=\"c1b43c81-4394-448a-b021-a0f86a450f44\" data-shogun-site-id=\"c1b43c81-4394-448a-b021-a0f86a450f44\" data-sanitized-data-shogun-id=\"60c86ecf4bd1ec00d07538af\" data-shogun-id=\"60c86ecf4bd1ec00d07538af\"\u003e\n\u003cdiv id=\"s-2830aebf-f84d-469f-acbe-d2c64ef1f9f2\" class=\"shg-c\"\u003e\n\u003cdiv class=\"shg-rich-text shg-theme-text-content\"\u003e\n\u003cp\u003eThe Multi-Bike Lifter is the smartest, safest, Bluetooth-enabled storage for multiple bikes (up to 92.4 lbs). Control speed, automatic stopping points, and weight limit in the smartphone app to keep your family's bikes and anything underneath them safe.\u003c\/p\u003e\n\u003c\/div\u003e\n\u003c\/div\u003e\n\u003cdiv id=\"s-9930f8ae-e824-4d1f-af33-fabd8a5d6a1f\" class=\"shg-c\"\u003e\n\u003cdiv class=\"shg-rich-text shg-theme-text-content\"\u003e\n\u003cp\u003eThe Multi-Bike Lifter allows you to quickly and easily access your bikes with its hook and loop straps and the smartphone app is much safer than a traditional wall remote that can be easily accessed by anyone. Heavier E-Bikes are better \u003cspan data-sanitized-data-mce-fragment=\"1\"\u003eindividually\u003c\/span\u003e lifted with our \u003ca title=\"Universal Lifter\" href=\"https:\/\/www.mysmarterhome.com\/products\/universal-lifter\"\u003eUniversal Lifter\u003c\/a\u003e\u003c\/p\u003e\n\u003cul\u003e\n\u003cli\u003eEasy to install\u003c\/li\u003e\n\u003cli\u003eAutomatically lifts and lowers your bikes\u003c\/li\u003e\n\u003cli\u003ePrevents damage to bikes\u003c\/li\u003e\n\u003cli\u003eEasily controlled via Bluetooth-enabled device\u003c\/li\u003e\n\u003c\/ul\u003e\n\u003c\/div\u003e\n\u003c\/div\u003e\n\u003c\/div\u003e\n\u003c\/div\u003e\n\u003c\/div\u003e\n\u003c\/div\u003e\n\u003c\/div\u003e\n\u003cdiv class=\"product-block product-block--tab\"\u003e\n\u003cdiv class=\"collapsibles-wrapper collapsibles-wrapper--border-bottom\"\u003e \u003c\/div\u003e\n\u003c\/div\u003e\n\u003c\/div\u003e\n\n\u003c\/div\u003e\n\n\n\u003c\/div\u003e\n","published_at":"2020-07-28T16:56:09-06:00","created_at":"2020-07-28T16:29:49-06:00","vendor":"Garage Smart","type":"Lifts","tags":[],"price":36900,"price_min":36900,"price_max":36900,"available":true,"price_varies":false,"compare_at_price":null,"compare_at_price_min":0,"compare_at_price_max":0,"compare_at_price_varies":false,"variants":[{"id":32477816520775,"title":"Default Title","option1":"Default Title","option2":null,"option3":null,"sku":"F0011","requires_shipping":true,"taxable":true,"featured_image":null,"available":true,"name":"Multi-Bike Lifter","public_title":null,"options":["Default Title"],"price":36900,"weight":11340,"compare_at_price":null,"inventory_quantity":138,"inventory_management":"shopify","inventory_policy":"continue","barcode":"857597006201","requires_selling_plan":false,"selling_plan_allocations":[]}],"images":["\/\/cdn.shopify.com\/s\/files\/1\/2233\/6407\/products\/HEROIMAGE.jpg?v=1595975694","\/\/cdn.shopify.com\/s\/files\/1\/2233\/6407\/products\/AD2I7845.jpg?v=1595975695","\/\/cdn.shopify.com\/s\/files\/1\/2233\/6407\/products\/HAL5687.jpg?v=1595975694","\/\/cdn.shopify.com\/s\/files\/1\/2233\/6407\/products\/HAL5786.jpg?v=1595975694","\/\/cdn.shopify.com\/s\/files\/1\/2233\/6407\/products\/AD2I7849.jpg?v=1595975695"],"featured_image":"\/\/cdn.shopify.com\/s\/files\/1\/2233\/6407\/products\/HEROIMAGE.jpg?v=1595975694","options":["Title"],"media":[{"alt":null,"id":7202789294151,"position":1,"preview_image":{"aspect_ratio":0.91,"height":1000,"width":910,"src":"https:\/\/cdn.shopify.com\/s\/files\/1\/2233\/6407\/products\/HEROIMAGE.jpg?v=1595975694"},"aspect_ratio":0.91,"height":1000,"media_type":"image","src":"https:\/\/cdn.shopify.com\/s\/files\/1\/2233\/6407\/products\/HEROIMAGE.jpg?v=1595975694","width":910},{"alt":null,"id":7202789228615,"position":2,"preview_image":{"aspect_ratio":1.0,"height":2528,"width":2528,"src":"https:\/\/cdn.shopify.com\/s\/files\/1\/2233\/6407\/products\/AD2I7845.jpg?v=1595975695"},"aspect_ratio":1.0,"height":2528,"media_type":"image","src":"https:\/\/cdn.shopify.com\/s\/files\/1\/2233\/6407\/products\/AD2I7845.jpg?v=1595975695","width":2528},{"alt":null,"id":7202789130311,"position":3,"preview_image":{"aspect_ratio":1.0,"height":1591,"width":1591,"src":"https:\/\/cdn.shopify.com\/s\/files\/1\/2233\/6407\/products\/HAL5687.jpg?v=1595975694"},"aspect_ratio":1.0,"height":1591,"media_type":"image","src":"https:\/\/cdn.shopify.com\/s\/files\/1\/2233\/6407\/products\/HAL5687.jpg?v=1595975694","width":1591},{"alt":null,"id":7202789163079,"position":4,"preview_image":{"aspect_ratio":1.0,"height":1057,"width":1057,"src":"https:\/\/cdn.shopify.com\/s\/files\/1\/2233\/6407\/products\/HAL5786.jpg?v=1595975694"},"aspect_ratio":1.0,"height":1057,"media_type":"image","src":"https:\/\/cdn.shopify.com\/s\/files\/1\/2233\/6407\/products\/HAL5786.jpg?v=1595975694","width":1057},{"alt":null,"id":7202789261383,"position":5,"preview_image":{"aspect_ratio":1.0,"height":2487,"width":2487,"src":"https:\/\/cdn.shopify.com\/s\/files\/1\/2233\/6407\/products\/AD2I7849.jpg?v=1595975695"},"aspect_ratio":1.0,"height":2487,"media_type":"image","src":"https:\/\/cdn.shopify.com\/s\/files\/1\/2233\/6407\/products\/AD2I7849.jpg?v=1595975695","width":2487}],"requires_selling_plan":false,"selling_plan_groups":[],"content":"\u003cdiv class=\"shogun-root\" data-shogun-id=\"5f84b9bfd5d2230090cbba76\" data-shogun-site-id=\"57e0dc25-ccaa-4d93-bab1-871a60bdbf1e\" data-shogun-page-id=\"5f84b9bfd5d2230090cbba76\" data-shogun-page-version-id=\"61a7e191155c2600db852fde\" data-shogun-platform-type=\"shopify\" data-shogun-variant-id=\"61a7e191155c2600db853286\" data-region=\"main\"\u003e\n \n\u003cscript type=\"text\/javascript\" src=\"https:\/\/lib.getshogun.com\/lazysizes\/2.0.0\/shogun-lazysizes.js\" async\u003e\u003c\/script\u003e\n\n\u003cdiv id=\"s-f1f43e76-864a-49c3-85e5-470717e04613\" class=\"shg-c \"\u003e\n \u003cdiv class=\"shg-rich-text shg-theme-text-content\"\u003e\n\u003cdiv class=\"product-block product-block--tab\"\u003e\n\u003cdiv class=\"collapsibles-wrapper collapsibles-wrapper--border-bottom\"\u003e\n\u003cdiv id=\"Product-content-description6668814287035\" class=\"collapsible-content collapsible-content--all is-open\"\u003e\n\u003cdiv class=\"collapsible-content__inner rte\"\u003e\n\u003cdiv class=\"shogun-root\" data-sanitized-data-region=\"main\" data-region=\"main\" data-sanitized-data-shogun-variant-id=\"61a2523b4c174700d12ac03e\" data-shogun-variant-id=\"61a2523b4c174700d12ac03e\" data-sanitized-data-shogun-platform-type=\"shopify\" data-shogun-platform-type=\"shopify\" data-sanitized-data-shogun-page-version-id=\"61a2523b4c174700d12abe52\" data-shogun-page-version-id=\"61a2523b4c174700d12abe52\" data-sanitized-data-shogun-page-id=\"60c86ecf4bd1ec00d07538af\" data-shogun-page-id=\"60c86ecf4bd1ec00d07538af\" data-sanitized-data-shogun-site-id=\"c1b43c81-4394-448a-b021-a0f86a450f44\" data-shogun-site-id=\"c1b43c81-4394-448a-b021-a0f86a450f44\" data-sanitized-data-shogun-id=\"60c86ecf4bd1ec00d07538af\" data-shogun-id=\"60c86ecf4bd1ec00d07538af\"\u003e\n\u003cdiv id=\"s-2830aebf-f84d-469f-acbe-d2c64ef1f9f2\" class=\"shg-c\"\u003e\n\u003cdiv class=\"shg-rich-text shg-theme-text-content\"\u003e\n\u003cp\u003eThe Multi-Bike Lifter is the smartest, safest, Bluetooth-enabled storage for multiple bikes (up to 92.4 lbs). Control speed, automatic stopping points, and weight limit in the smartphone app to keep your family's bikes and anything underneath them safe.\u003c\/p\u003e\n\u003c\/div\u003e\n\u003c\/div\u003e\n\u003cdiv id=\"s-9930f8ae-e824-4d1f-af33-fabd8a5d6a1f\" class=\"shg-c\"\u003e\n\u003cdiv class=\"shg-rich-text shg-theme-text-content\"\u003e\n\u003cp\u003eThe Multi-Bike Lifter allows you to quickly and easily access your bikes with its hook and loop straps and the smartphone app is much safer than a traditional wall remote that can be easily accessed by anyone. Heavier E-Bikes are better \u003cspan data-sanitized-data-mce-fragment=\"1\"\u003eindividually\u003c\/span\u003e lifted with our \u003ca title=\"Universal Lifter\" href=\"https:\/\/www.mysmarterhome.com\/products\/universal-lifter\"\u003eUniversal Lifter\u003c\/a\u003e\u003c\/p\u003e\n\u003cul\u003e\n\u003cli\u003eEasy to install\u003c\/li\u003e\n\u003cli\u003eAutomatically lifts and lowers your bikes\u003c\/li\u003e\n\u003cli\u003ePrevents damage to bikes\u003c\/li\u003e\n\u003cli\u003eEasily controlled via Bluetooth-enabled device\u003c\/li\u003e\n\u003c\/ul\u003e\n\u003c\/div\u003e\n\u003c\/div\u003e\n\u003c\/div\u003e\n\u003c\/div\u003e\n\u003c\/div\u003e\n\u003c\/div\u003e\n\u003c\/div\u003e\n\u003cdiv class=\"product-block product-block--tab\"\u003e\n\u003cdiv class=\"collapsibles-wrapper collapsibles-wrapper--border-bottom\"\u003e \u003c\/div\u003e\n\u003c\/div\u003e\n\u003c\/div\u003e\n\n\u003c\/div\u003e\n\n\n\u003c\/div\u003e\n"}
Multi-Bike Lifter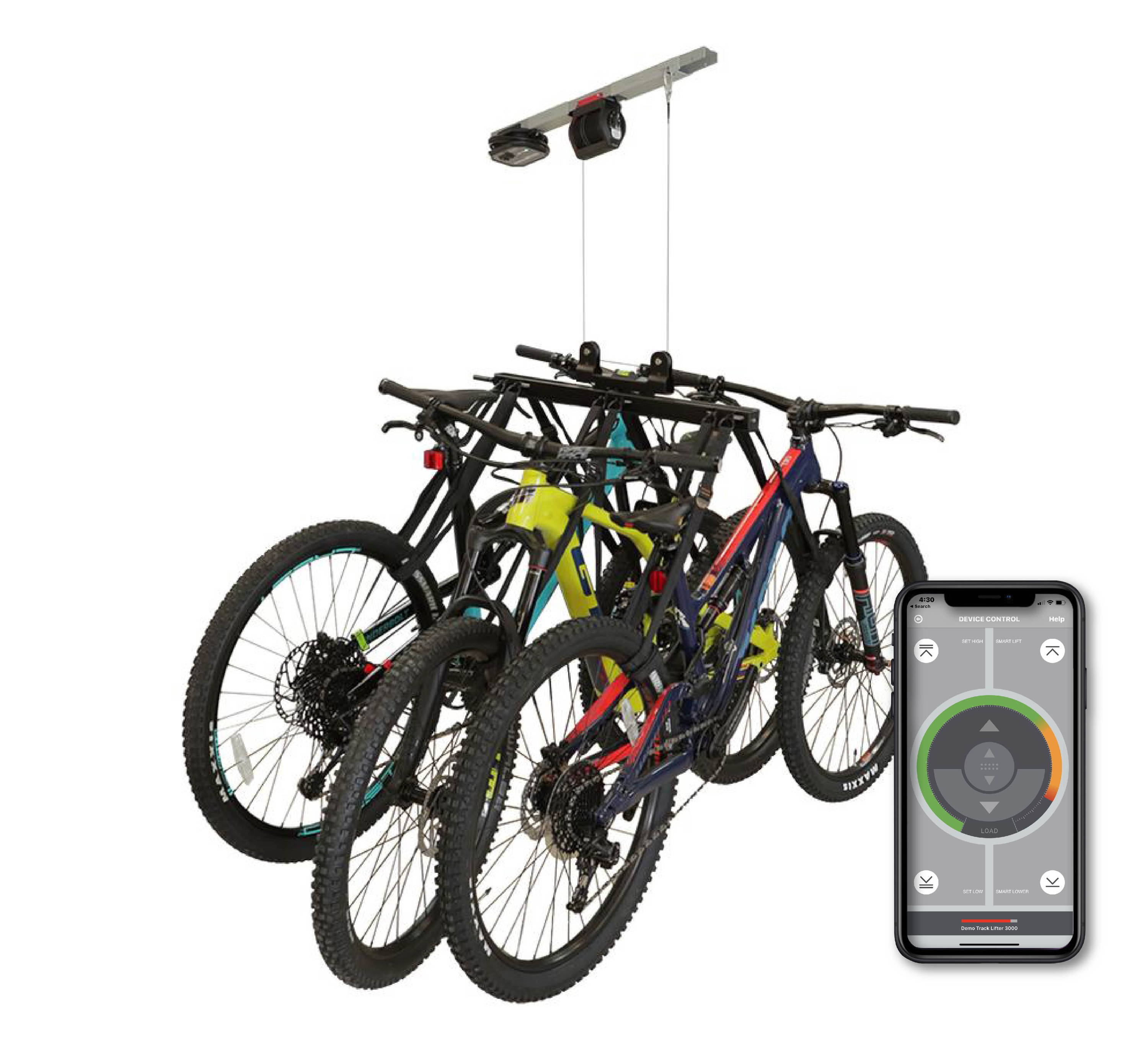 The Smartest
Storage for Bikes
The Multi-Bike Lifter makes storing your family's bikes simple and safe with its easy to use app. All you need to control the Multi-Bike Lifter is the MyLifter smartphone app on a Bluetooth-enabled device. (The app is compatible with iOS and Android.) As with all Garage Smart products, the patented power passthrough technology allows the Multi-Bike Lifter to daisy chain with other AC-powered products, making it easy to create a smart garage with limited outlets.


Soft lifting straps keep your bikes scratch free.
Lifting Frame With Built-In Level
A built-in level keeps bikes balanced, freeing up space and keeping bikes from slipping.
Programmable app features prevent accidents and bike damage.
---
Safe and Sturdy Bike Storage
The Multi-Bike Lifter is the only overhead storage solution for bikes that has smart, intuitive leveling, keeping bikes safe from falling and safe to walk under. The built-in level and lifting straps can be easily readjusted even after bikes are removed to keep the lifter balanced, and stickers assist in making it simple to rebalance bikes when you're ready to store again. Plus, patented hands-free spooling keeps you from manually pulling and unwinding a tangled cable for smooth, effortless bike lifting.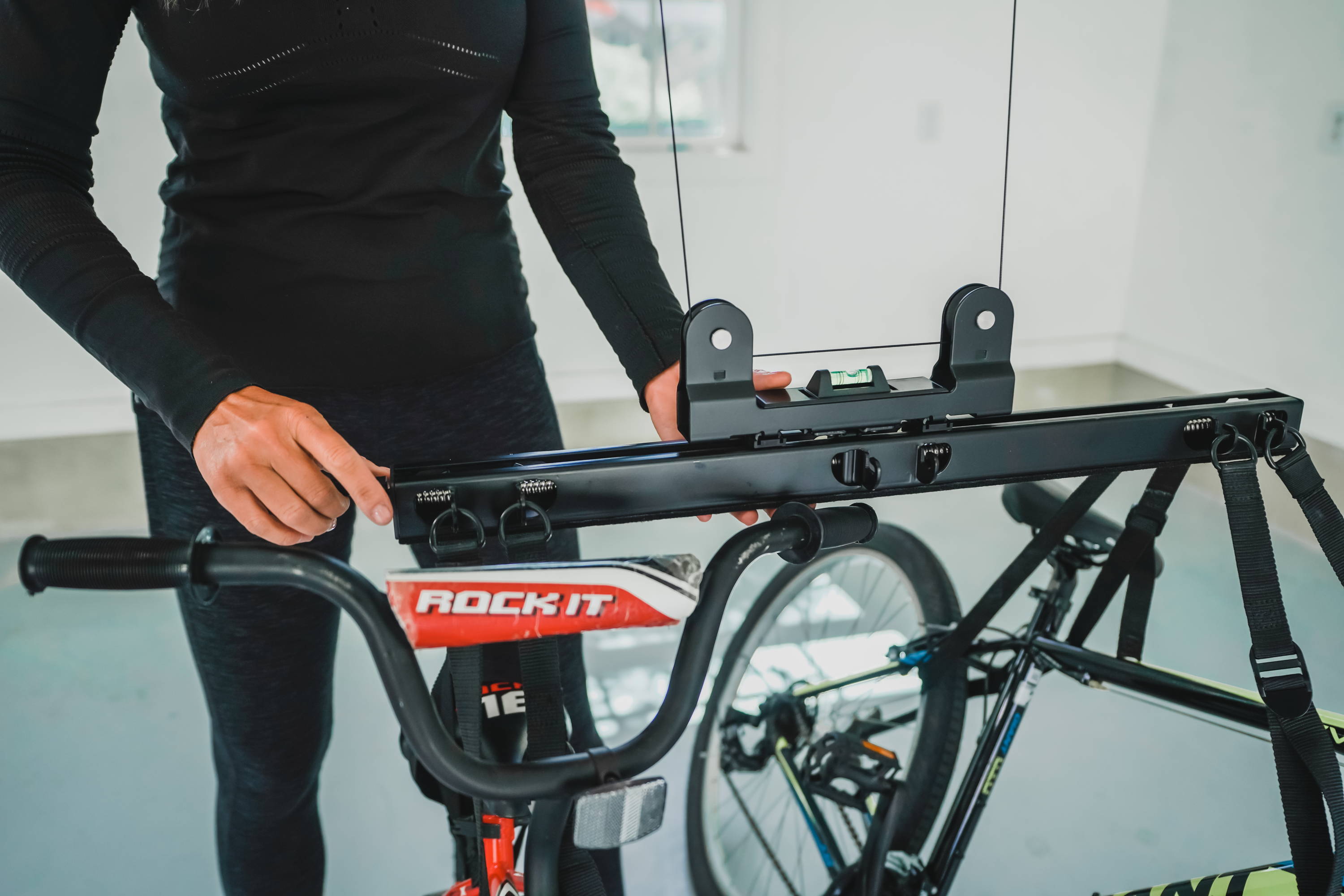 ---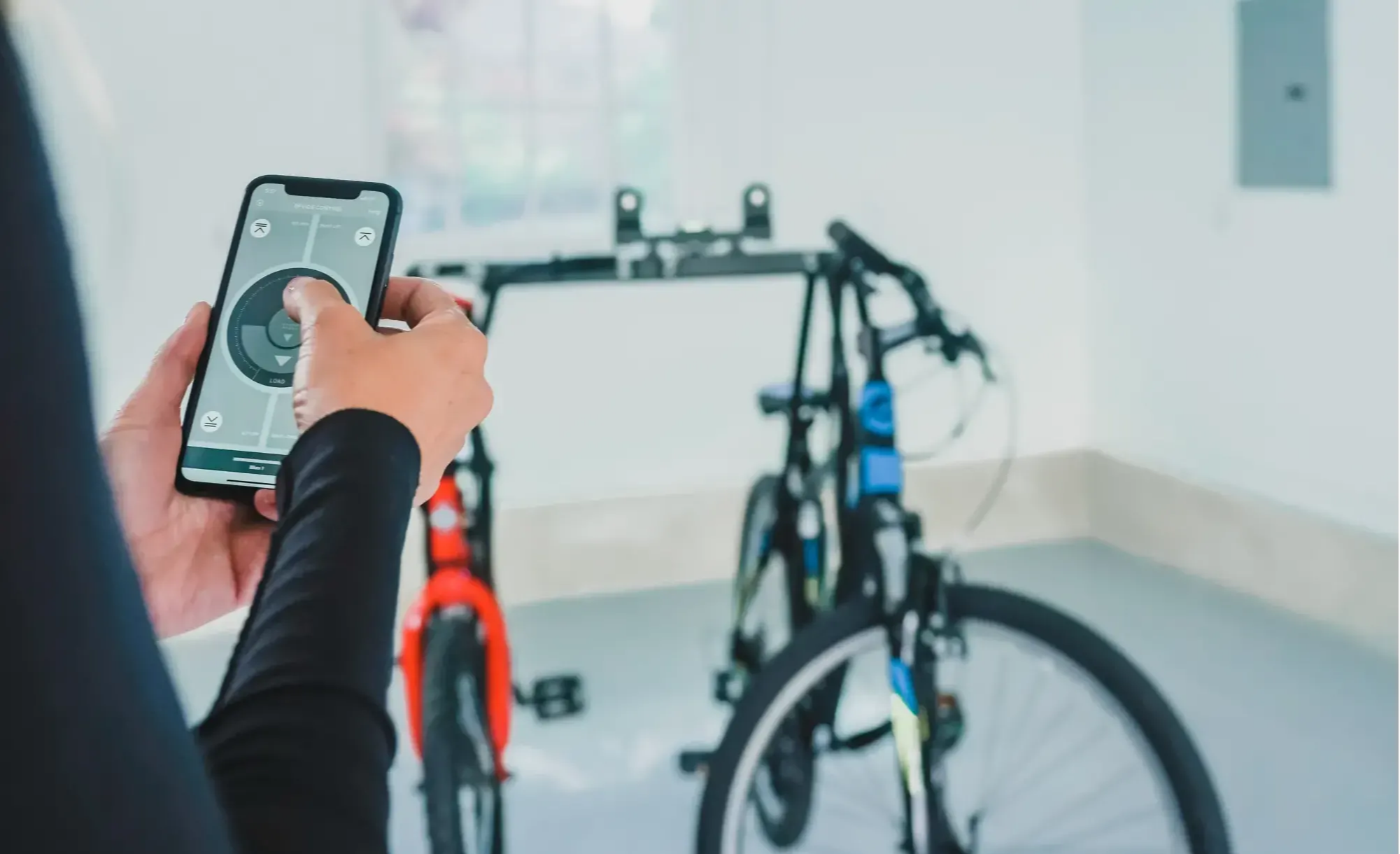 The smartphone app is packed with features designed to keep you and your bikes safe. Control the speed of the lifter for precise placement and set automatic lift and lower stopping points to eliminate the risk of crashing your bikes into anything. The lifter will not lift more than its weight capacity and won't attempt to run your bikes into the ceiling.

---
---
The Multi-Bike Lifter comes with all of the necessary parts for installation, so you don't need extra hardware or professional installation. Find helpful installation tips and a detailed tutorial video here.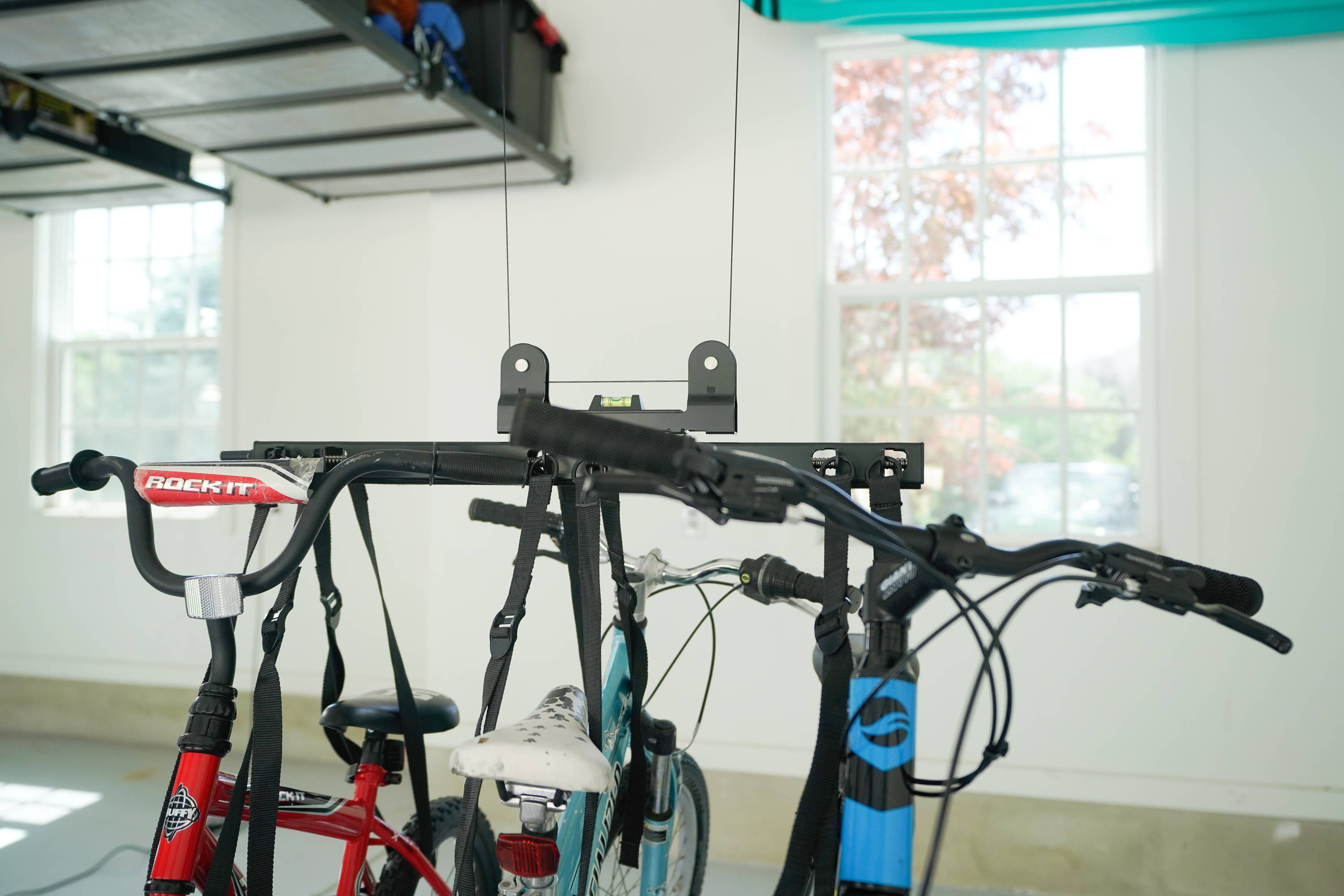 ---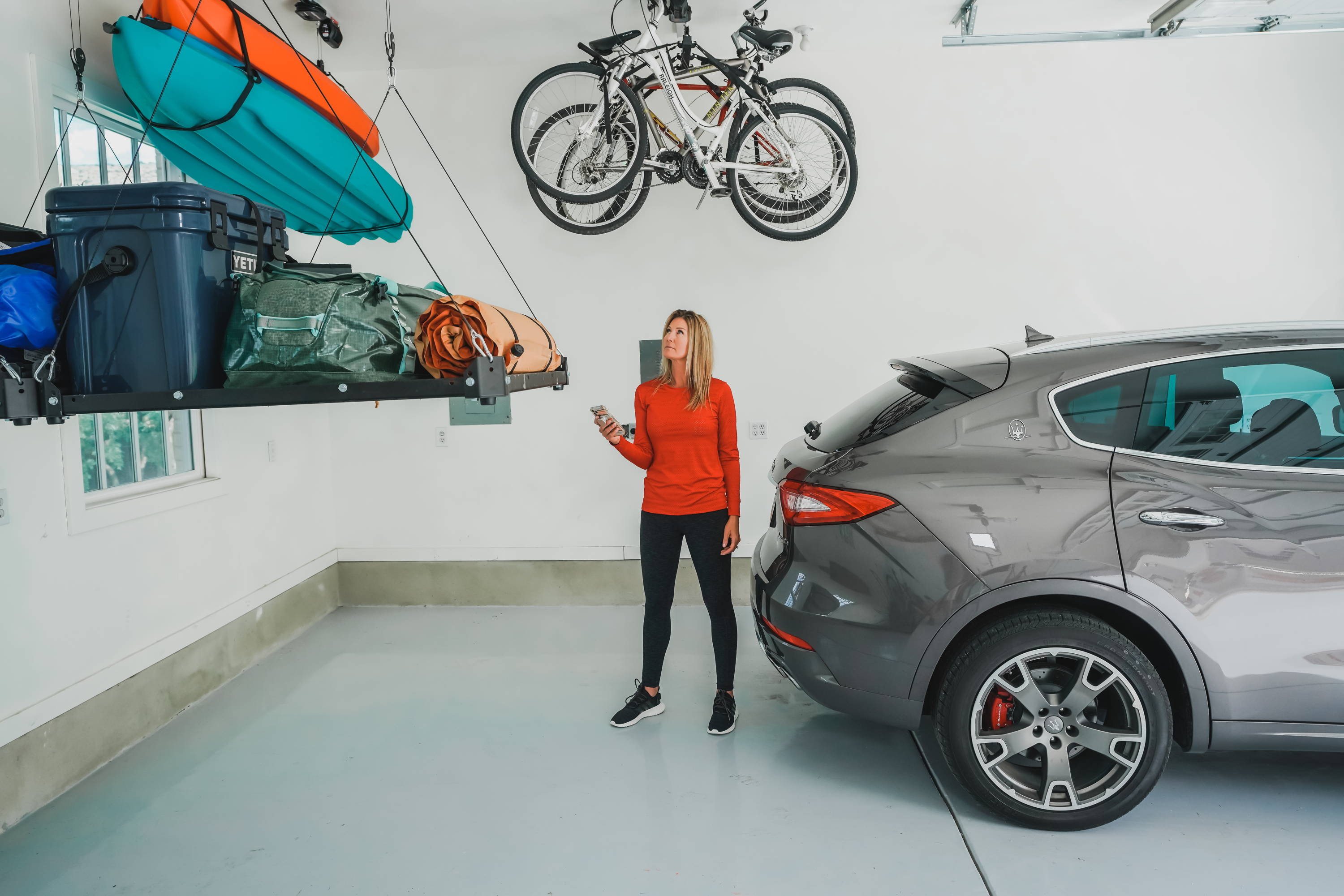 Works With Garage
Smart System

Plug in other Garage Smart products to create your own smart garage. Since most garages rely on one or two outlets, our patented power passthrough technology allows AC-powered products to daisy chain off of just one outlet.

---
The Multi-Bike Lifter includes the following:

- 1 MyLifter
- 1 Smart Track
- 1 Power Adapter
- 1 Lifting Frame
- 6 Adjustable Lifting Straps
- One 3 Foot DC Cable
- Mounting Hardware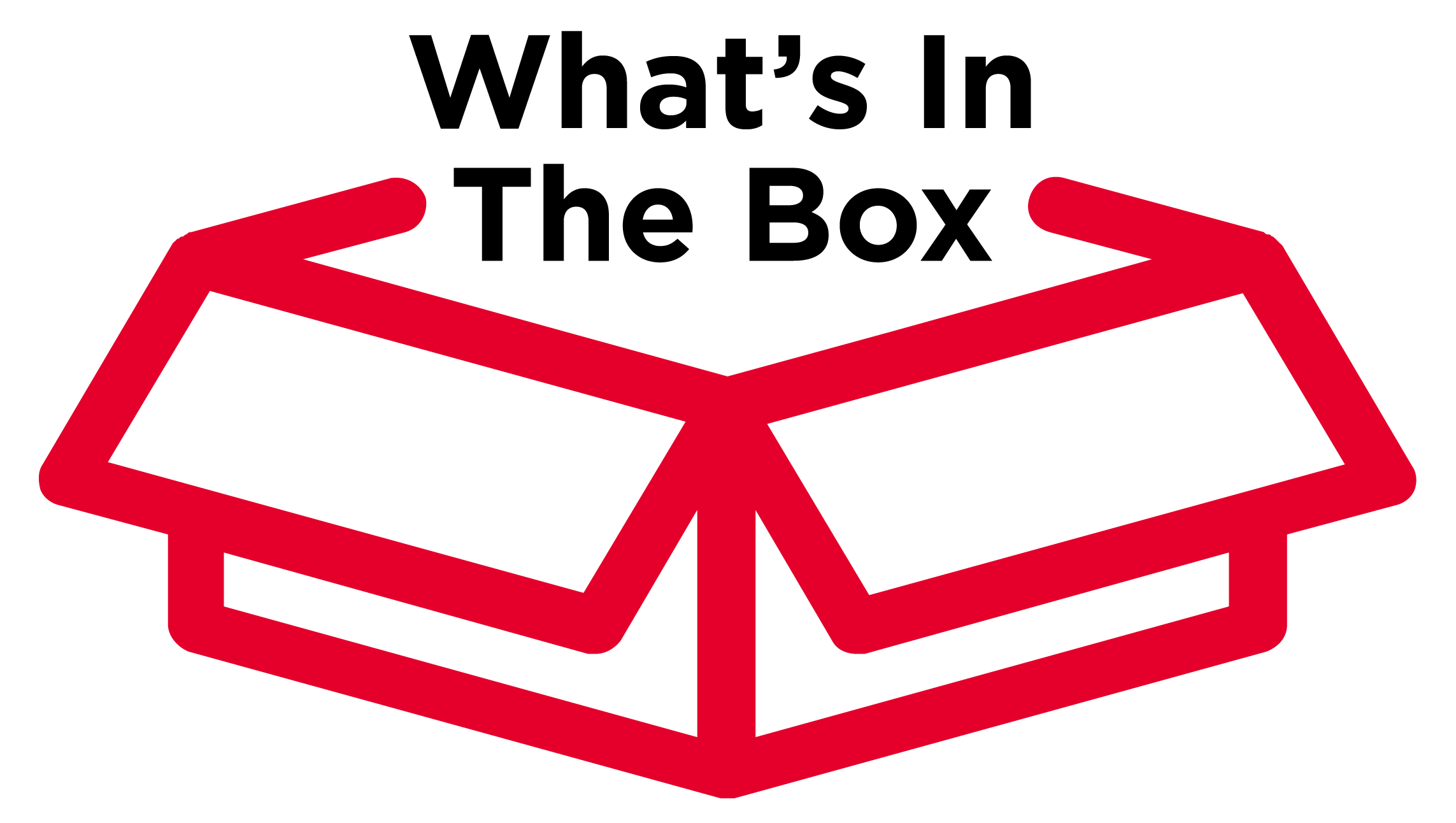 ---