{"id":302530035752,"title":"Platform Lifter","handle":"platform-lifter","description":"\u003cdiv class=\"shogun-root\" data-shogun-id=\"5f6908a2bd928e004f4127e7\" data-shogun-site-id=\"57e0dc25-ccaa-4d93-bab1-871a60bdbf1e\" data-shogun-page-id=\"5f6908a2bd928e004f4127e7\" data-shogun-page-version-id=\"600f3e5fd986a30077acbacc\" data-shogun-platform-type=\"shopify\" data-shogun-variant-id=\"600f3e60d986a30077acbde1\" data-region=\"main\"\u003e\n \n\u003cscript type=\"text\/javascript\" src=\"https:\/\/lib.getshogun.com\/lazysizes\/2.0.0\/shogun-lazysizes.js\" async\u003e\u003c\/script\u003e\n\n\u003cdiv id=\"s-df1dc4e7-f2fa-43e2-bcf5-af5bda04de2e\" class=\"shg-c \"\u003e\n \u003cdiv class=\"shg-rich-text shg-theme-text-content\"\u003e\u003cp\u003eThe Platform Lifter is the smartest, sturdiest, Bluetooth-enabled storage solution for a variety of items like storage bins, outdoor gear, and more. Control speed, automatic stopping points, and weight limit in the smartphone app to keep you and your items safe. Customize your platform's dimensions to increase storage space and lifting capacity and add a Tool Rack for safe, easy storage of rakes, brooms, and other tools.\u003cbr\u003e- Easy to install\u003cbr\u003e- Great for lowering heavy items into truck bed\u003cbr\u003e- Prevents items from rolling or tipping\u003cbr\u003e- Easily controlled via Bluetooth-enabled device\u003c\/p\u003e\u003c\/div\u003e\n\n\u003c\/div\u003e\n\n\u003cdiv id=\"s-29b6c7e9-4f06-4655-ab6c-ce714b1a2d51\" class=\"shg-c shg-product \" data-is-product-box=\"true\"\u003e\n \u003cscript type=\"text\/javascript\"\u003e\n window.__shgProductInits = window.__shgProductInits || new Array();\n window.__shgProductCallbacks = window.__shgProductCallbacks || {};\n window.__shgProductComponent = window.__shgProductComponent || {};\n window.__shgProductCallbacks[\"s-29b6c7e9-4f06-4655-ab6c-ce714b1a2d51\"] = new Array();\n \u003c\/script\u003e\n\n \u003cdiv id=\"s-dd76ed91-6a27-4613-9e4c-ac72a813c988\" class=\"shg-c \"\u003e\n \u003chr\u003e\n\n\u003c\/div\u003e\n\n\n \u003cscript type=\"text\/javascript\"\u003e\n window.__shgProductInits.push({\n uuid: \"s-29b6c7e9-4f06-4655-ab6c-ce714b1a2d51\",\n platform: \"shopify\",\n currency: \"USD\",\n moneyFormat: {\"USD\":{\"currency\":\"USD\",\"currency_symbol\":\"$\",\"currency_symbol_location\":\"left\",\"decimal_places\":0,\"decimal_separator\":\".\",\"thousands_separator\":\",\"}},\n \n \n \n productHandle: \"yard-racks\",\n productVariantId: 30859097833543\n \n });\n\n window.__shgProductCallbacks[\"s-29b6c7e9-4f06-4655-ab6c-ce714b1a2d51\"].push({\n cb: \"box\",\n data: {\n uuid: \"s-29b6c7e9-4f06-4655-ab6c-ce714b1a2d51\"\n }\n });\n \u003c\/script\u003e\n\u003c\/div\u003e\n\n\n\u003c\/div\u003e\n","published_at":"2017-11-30T13:31:12-07:00","created_at":"2017-11-30T13:31:22-07:00","vendor":"MY LIFTER by GARAGE SMART","type":"Lifts","tags":["disclaimer","mylifter","professional-installation"],"price":61900,"price_min":61900,"price_max":118900,"available":false,"price_varies":true,"compare_at_price":null,"compare_at_price_min":0,"compare_at_price_max":0,"compare_at_price_varies":false,"variants":[{"id":31941081333831,"title":"3' X 3'","option1":"3' X 3'","option2":null,"option3":null,"sku":"K0011","requires_shipping":true,"taxable":true,"featured_image":{"id":13425257185351,"product_id":302530035752,"position":1,"created_at":"2019-11-04T09:59:33-07:00","updated_at":"2019-11-04T09:59:33-07:00","alt":"Platform Lifter Example","width":1669,"height":1497,"src":"https:\/\/cdn.shopify.com\/s\/files\/1\/2233\/6407\/products\/HERO_IMAGE_copy_0138bdaf-970d-42a6-a92b-4103dff78de5.png?v=1572886773","variant_ids":[31941081333831]},"available":false,"name":"Platform Lifter - 3' X 3'","public_title":"3' X 3'","options":["3' X 3'"],"price":61900,"weight":28123,"compare_at_price":null,"inventory_quantity":0,"inventory_management":"shopify","inventory_policy":"deny","barcode":"857597006348","featured_media":{"alt":"Platform Lifter Example","id":5598179065927,"position":1,"preview_image":{"aspect_ratio":1.115,"height":1497,"width":1669,"src":"https:\/\/cdn.shopify.com\/s\/files\/1\/2233\/6407\/products\/HERO_IMAGE_copy_0138bdaf-970d-42a6-a92b-4103dff78de5.png?v=1572886773"}},"requires_selling_plan":false,"selling_plan_allocations":[]},{"id":31941081366599,"title":"3' X 6'","option1":"3' X 6'","option2":null,"option3":null,"sku":"K0010","requires_shipping":true,"taxable":true,"featured_image":{"id":14327246520391,"product_id":302530035752,"position":2,"created_at":"2020-03-26T14:57:28-06:00","updated_at":"2020-03-26T14:57:28-06:00","alt":null,"width":3072,"height":3072,"src":"https:\/\/cdn.shopify.com\/s\/files\/1\/2233\/6407\/products\/Platform_HD_hero_image.png?v=1585256248","variant_ids":[31941081366599]},"available":false,"name":"Platform Lifter - 3' X 6'","public_title":"3' X 6'","options":["3' X 6'"],"price":118900,"weight":56245,"compare_at_price":null,"inventory_quantity":0,"inventory_management":"shopify","inventory_policy":"deny","barcode":"850840008281","featured_media":{"alt":null,"id":6500265852999,"position":2,"preview_image":{"aspect_ratio":1.0,"height":3072,"width":3072,"src":"https:\/\/cdn.shopify.com\/s\/files\/1\/2233\/6407\/products\/Platform_HD_hero_image.png?v=1585256248"}},"requires_selling_plan":false,"selling_plan_allocations":[]}],"images":["\/\/cdn.shopify.com\/s\/files\/1\/2233\/6407\/products\/HERO_IMAGE_copy_0138bdaf-970d-42a6-a92b-4103dff78de5.png?v=1572886773","\/\/cdn.shopify.com\/s\/files\/1\/2233\/6407\/products\/Platform_HD_hero_image.png?v=1585256248","\/\/cdn.shopify.com\/s\/files\/1\/2233\/6407\/products\/HAL3827_56ac91e8-d6d6-4c43-b2ab-66678ecfb373.jpg?v=1585118810","\/\/cdn.shopify.com\/s\/files\/1\/2233\/6407\/products\/HAL3736.jpg?v=1585120208","\/\/cdn.shopify.com\/s\/files\/1\/2233\/6407\/products\/AD2I8856.jpg?v=1585157692","\/\/cdn.shopify.com\/s\/files\/1\/2233\/6407\/products\/AD2I8816.jpg?v=1585157692"],"featured_image":"\/\/cdn.shopify.com\/s\/files\/1\/2233\/6407\/products\/HERO_IMAGE_copy_0138bdaf-970d-42a6-a92b-4103dff78de5.png?v=1572886773","options":["Platform Options"],"media":[{"alt":"Platform Lifter Example","id":5598179065927,"position":1,"preview_image":{"aspect_ratio":1.115,"height":1497,"width":1669,"src":"https:\/\/cdn.shopify.com\/s\/files\/1\/2233\/6407\/products\/HERO_IMAGE_copy_0138bdaf-970d-42a6-a92b-4103dff78de5.png?v=1572886773"},"aspect_ratio":1.115,"height":1497,"media_type":"image","src":"https:\/\/cdn.shopify.com\/s\/files\/1\/2233\/6407\/products\/HERO_IMAGE_copy_0138bdaf-970d-42a6-a92b-4103dff78de5.png?v=1572886773","width":1669},{"alt":null,"id":6500265852999,"position":2,"preview_image":{"aspect_ratio":1.0,"height":3072,"width":3072,"src":"https:\/\/cdn.shopify.com\/s\/files\/1\/2233\/6407\/products\/Platform_HD_hero_image.png?v=1585256248"},"aspect_ratio":1.0,"height":3072,"media_type":"image","src":"https:\/\/cdn.shopify.com\/s\/files\/1\/2233\/6407\/products\/Platform_HD_hero_image.png?v=1585256248","width":3072},{"alt":null,"id":6495110856775,"position":3,"preview_image":{"aspect_ratio":1.0,"height":1569,"width":1569,"src":"https:\/\/cdn.shopify.com\/s\/files\/1\/2233\/6407\/products\/HAL3827_56ac91e8-d6d6-4c43-b2ab-66678ecfb373.jpg?v=1585118810"},"aspect_ratio":1.0,"height":1569,"media_type":"image","src":"https:\/\/cdn.shopify.com\/s\/files\/1\/2233\/6407\/products\/HAL3827_56ac91e8-d6d6-4c43-b2ab-66678ecfb373.jpg?v=1585118810","width":1569},{"alt":null,"id":6495127240775,"position":4,"preview_image":{"aspect_ratio":1.001,"height":1116,"width":1117,"src":"https:\/\/cdn.shopify.com\/s\/files\/1\/2233\/6407\/products\/HAL3736.jpg?v=1585120208"},"aspect_ratio":1.001,"height":1116,"media_type":"image","src":"https:\/\/cdn.shopify.com\/s\/files\/1\/2233\/6407\/products\/HAL3736.jpg?v=1585120208","width":1117},{"alt":null,"id":6496324943943,"position":5,"preview_image":{"aspect_ratio":1.0,"height":1892,"width":1892,"src":"https:\/\/cdn.shopify.com\/s\/files\/1\/2233\/6407\/products\/AD2I8856.jpg?v=1585157692"},"aspect_ratio":1.0,"height":1892,"media_type":"image","src":"https:\/\/cdn.shopify.com\/s\/files\/1\/2233\/6407\/products\/AD2I8856.jpg?v=1585157692","width":1892},{"alt":null,"id":6496324976711,"position":6,"preview_image":{"aspect_ratio":1.0,"height":1094,"width":1094,"src":"https:\/\/cdn.shopify.com\/s\/files\/1\/2233\/6407\/products\/AD2I8816.jpg?v=1585157692"},"aspect_ratio":1.0,"height":1094,"media_type":"image","src":"https:\/\/cdn.shopify.com\/s\/files\/1\/2233\/6407\/products\/AD2I8816.jpg?v=1585157692","width":1094}],"requires_selling_plan":false,"selling_plan_groups":[],"content":"\u003cdiv class=\"shogun-root\" data-shogun-id=\"5f6908a2bd928e004f4127e7\" data-shogun-site-id=\"57e0dc25-ccaa-4d93-bab1-871a60bdbf1e\" data-shogun-page-id=\"5f6908a2bd928e004f4127e7\" data-shogun-page-version-id=\"600f3e5fd986a30077acbacc\" data-shogun-platform-type=\"shopify\" data-shogun-variant-id=\"600f3e60d986a30077acbde1\" data-region=\"main\"\u003e\n \n\u003cscript type=\"text\/javascript\" src=\"https:\/\/lib.getshogun.com\/lazysizes\/2.0.0\/shogun-lazysizes.js\" async\u003e\u003c\/script\u003e\n\n\u003cdiv id=\"s-df1dc4e7-f2fa-43e2-bcf5-af5bda04de2e\" class=\"shg-c \"\u003e\n \u003cdiv class=\"shg-rich-text shg-theme-text-content\"\u003e\u003cp\u003eThe Platform Lifter is the smartest, sturdiest, Bluetooth-enabled storage solution for a variety of items like storage bins, outdoor gear, and more. Control speed, automatic stopping points, and weight limit in the smartphone app to keep you and your items safe. Customize your platform's dimensions to increase storage space and lifting capacity and add a Tool Rack for safe, easy storage of rakes, brooms, and other tools.\u003cbr\u003e- Easy to install\u003cbr\u003e- Great for lowering heavy items into truck bed\u003cbr\u003e- Prevents items from rolling or tipping\u003cbr\u003e- Easily controlled via Bluetooth-enabled device\u003c\/p\u003e\u003c\/div\u003e\n\n\u003c\/div\u003e\n\n\u003cdiv id=\"s-29b6c7e9-4f06-4655-ab6c-ce714b1a2d51\" class=\"shg-c shg-product \" data-is-product-box=\"true\"\u003e\n \u003cscript type=\"text\/javascript\"\u003e\n window.__shgProductInits = window.__shgProductInits || new Array();\n window.__shgProductCallbacks = window.__shgProductCallbacks || {};\n window.__shgProductComponent = window.__shgProductComponent || {};\n window.__shgProductCallbacks[\"s-29b6c7e9-4f06-4655-ab6c-ce714b1a2d51\"] = new Array();\n \u003c\/script\u003e\n\n \u003cdiv id=\"s-dd76ed91-6a27-4613-9e4c-ac72a813c988\" class=\"shg-c \"\u003e\n \u003chr\u003e\n\n\u003c\/div\u003e\n\n\n \u003cscript type=\"text\/javascript\"\u003e\n window.__shgProductInits.push({\n uuid: \"s-29b6c7e9-4f06-4655-ab6c-ce714b1a2d51\",\n platform: \"shopify\",\n currency: \"USD\",\n moneyFormat: {\"USD\":{\"currency\":\"USD\",\"currency_symbol\":\"$\",\"currency_symbol_location\":\"left\",\"decimal_places\":0,\"decimal_separator\":\".\",\"thousands_separator\":\",\"}},\n \n \n \n productHandle: \"yard-racks\",\n productVariantId: 30859097833543\n \n });\n\n window.__shgProductCallbacks[\"s-29b6c7e9-4f06-4655-ab6c-ce714b1a2d51\"].push({\n cb: \"box\",\n data: {\n uuid: \"s-29b6c7e9-4f06-4655-ab6c-ce714b1a2d51\"\n }\n });\n \u003c\/script\u003e\n\u003c\/div\u003e\n\n\n\u003c\/div\u003e\n"}
Platform Lifter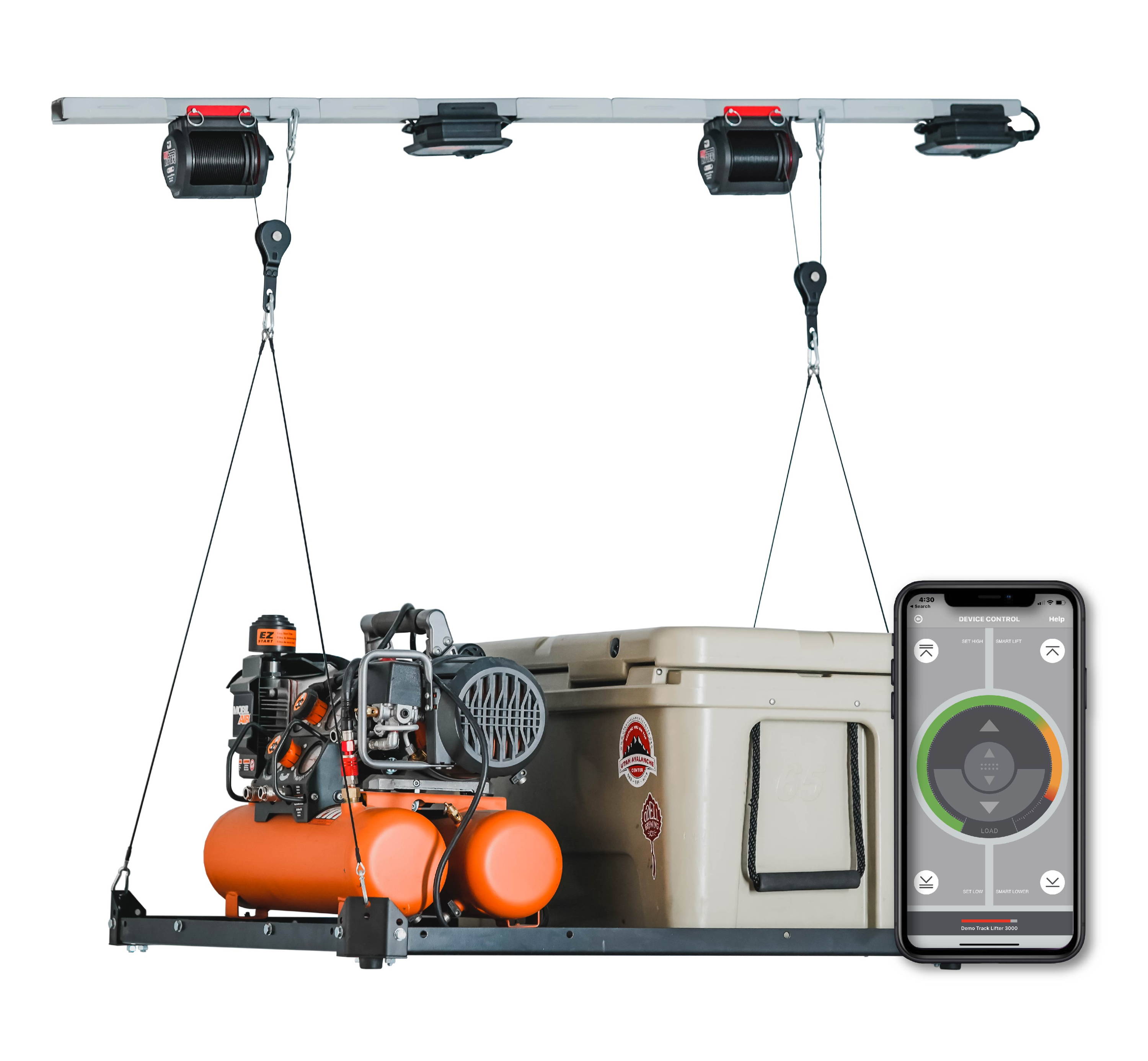 Garage Shelving Made Smart
The Platform Lifter makes it easy to access your heaviest items and quickly and easily store them when you're done. All you need to control the Platform Lifter is the MyLifter smartphone app on a Bluetooth-enabled device. (The app is compatible with iOS and Android.) As with all Garage Smart products, the patented power passthrough technology allows the Platform Lifter to daisy chain with other AC-powered products, making it easy to create a smart garage with limited outlets.
Patented Motor Communication
MyLifters communicate with each other to perform in sync and lift as a unit, ensuring stability.
Customizable Storage Area
Level up the lifting capacity by adding a second platform to double the lifting power and surface area.
Programmable app features prevent potential accidents and damage.
---
Start getting use out of your heavy storage items. Simply and quickly lower items with a tap on your smartphone, and conveniently raise them back into storing position when you're done. A customizable storage area makes the Platform Lifter a great solution for a variety of items. Plus, patented hands-free spooling keeps you from manually pulling and unwinding a tangled cable for smooth, effortless lifting.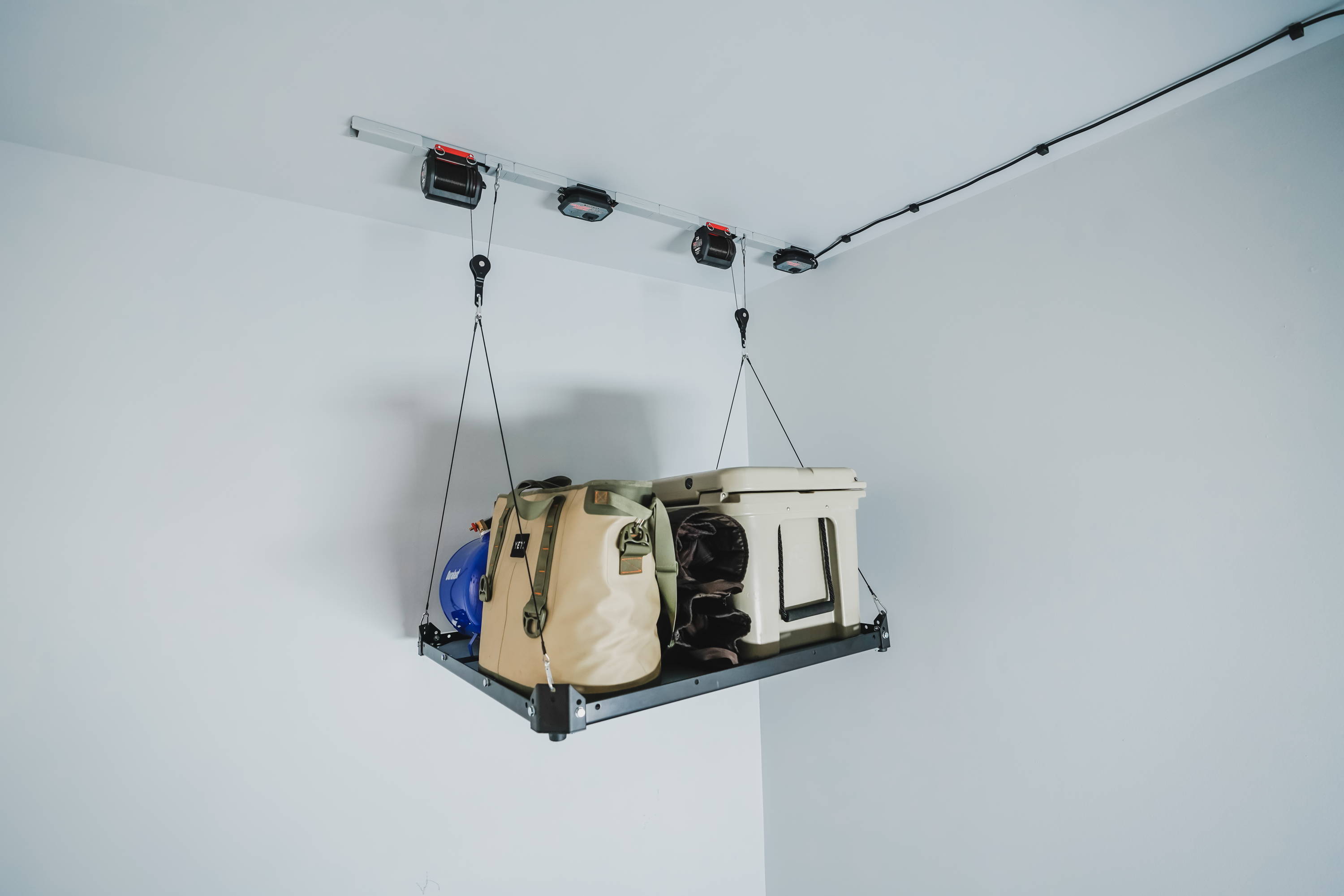 ---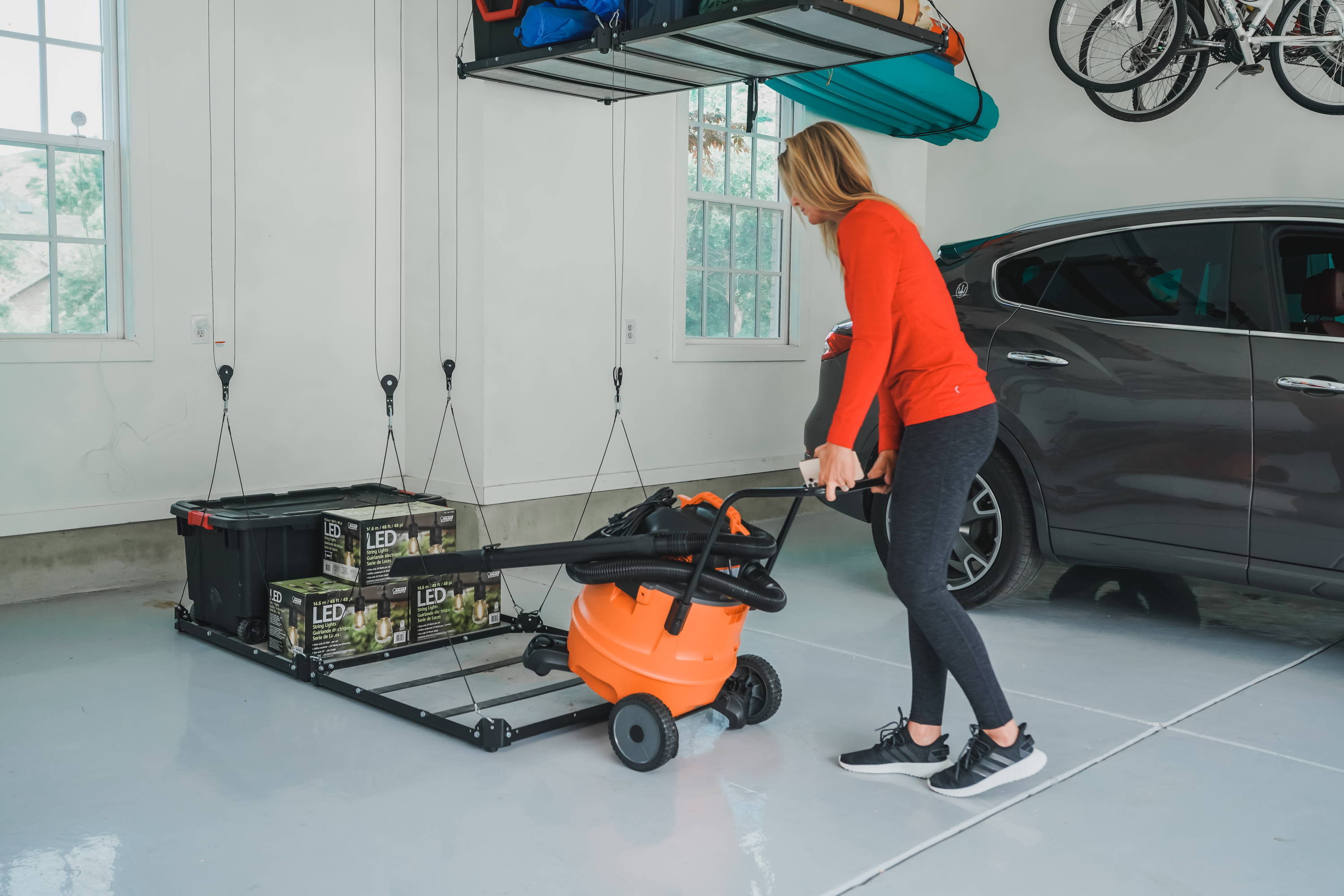 Keep your items safe and secure. Sturdy platform construction and a raised edge keep wheeled items from rolling. For extra safety, strap down items using cord attachment holes around the platform. Self-leveling motors keep the platform from swaying and tipping items while raising and lowering.
---
---
The smartphone app is packed with features designed to keep you and your items safe. Control the speed of the lifter for precise placement when lowering items into your vehicle and set automatic lift and lower stopping points to eliminate the risk of crashing. The lifter will not lift more than its weight capacity, preventing potential damage.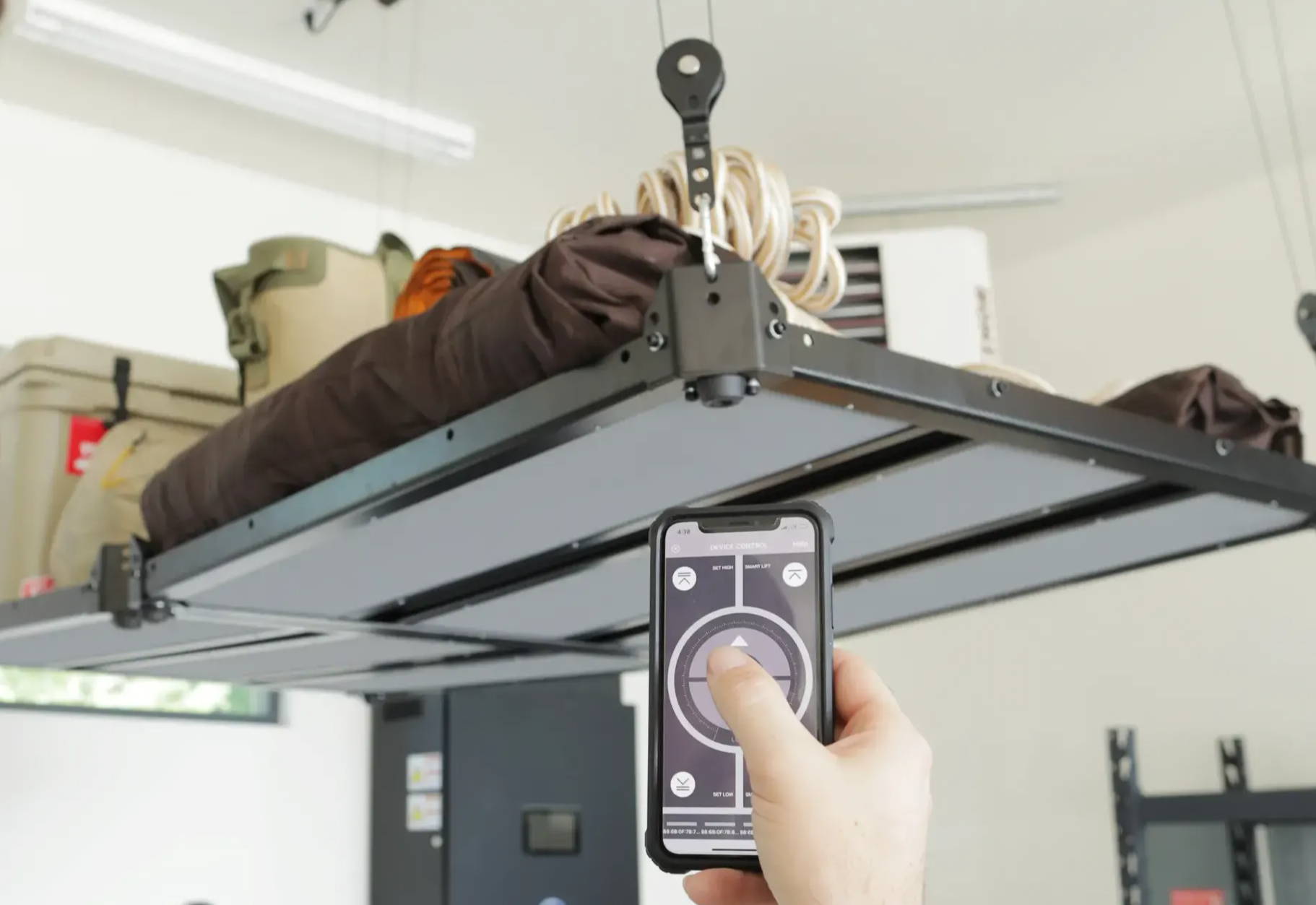 ---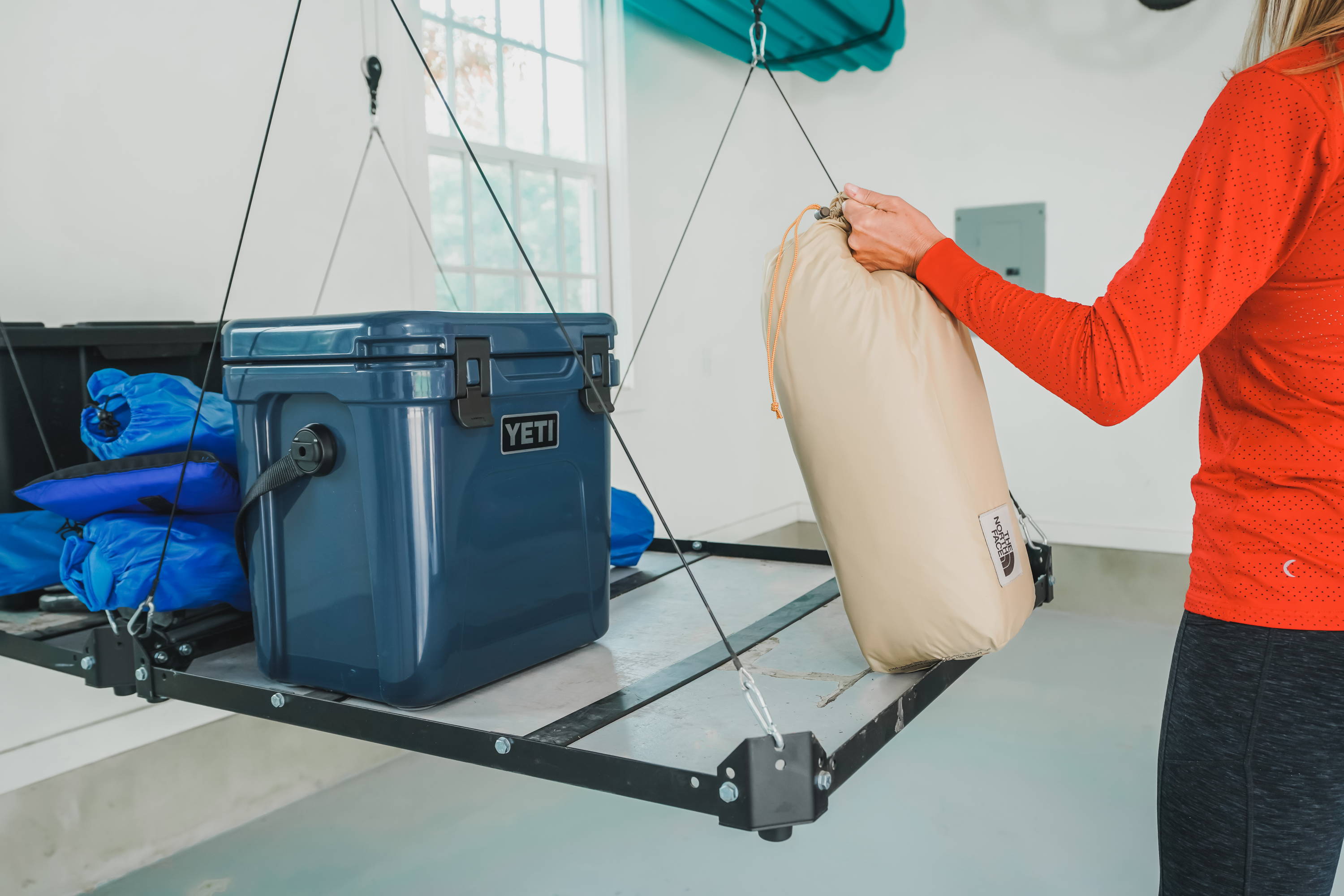 The Platform Lifter comes with all of the necessary parts for installation, so you don't need extra hardware or professional installation. Find helpful installation tips and a detailed tutorial video here.

---
---
Works With
Garage Smart System

Plug in other Garage Smart products to create your own smart garage. Since most garages rely on one or two outlets, our patented power passthrough technology allows AC-powered products to daisy chain off of just one outlet.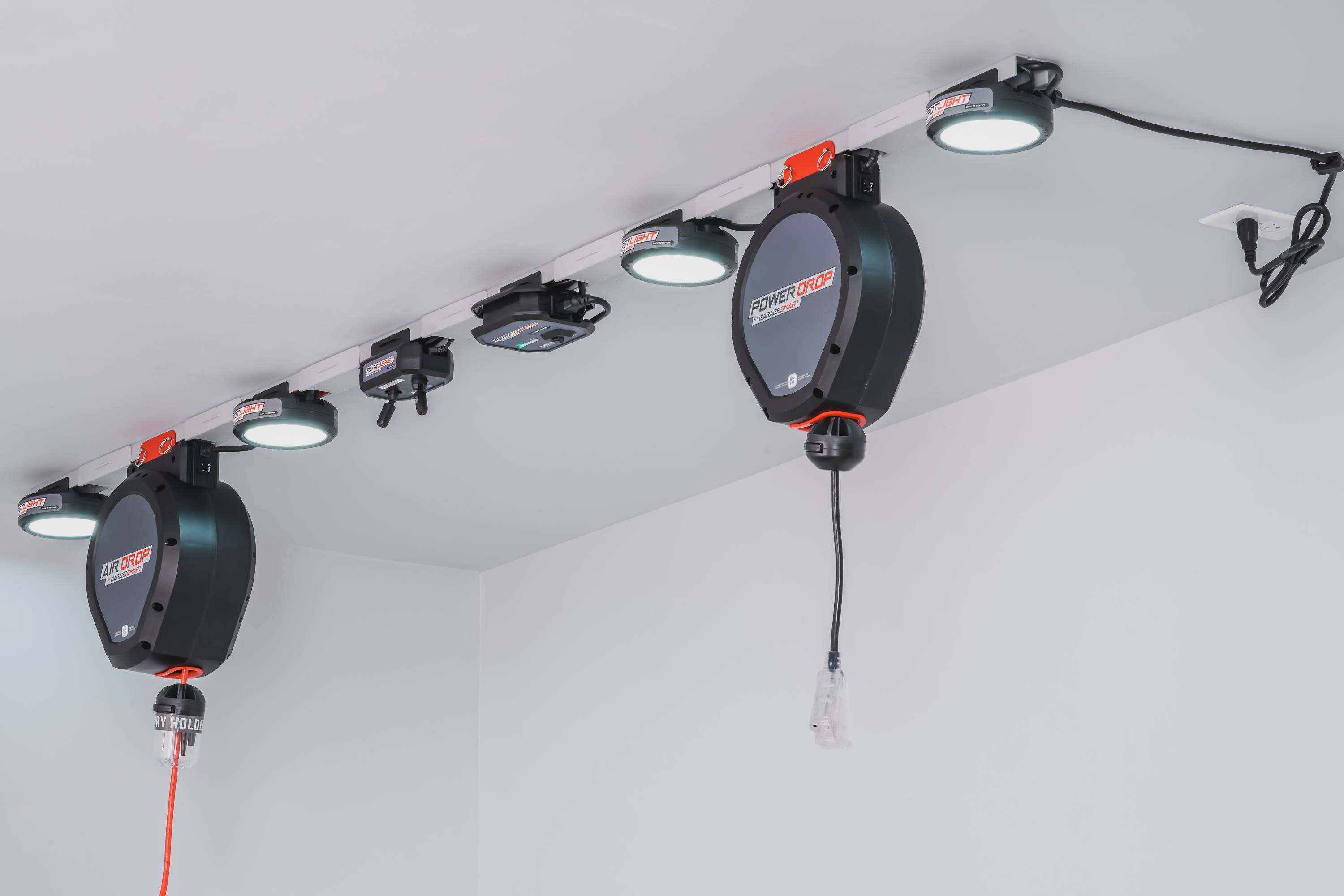 ---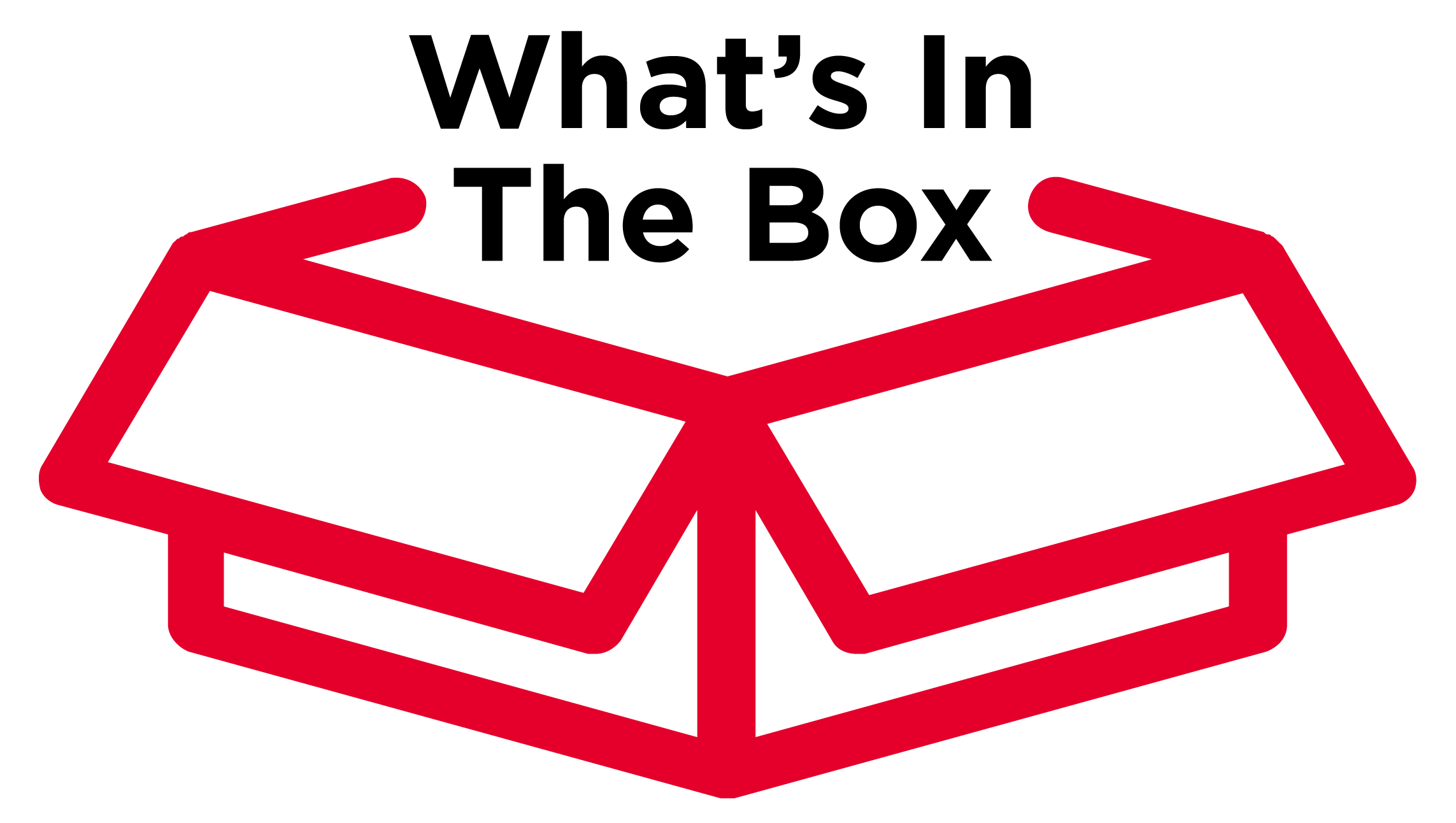 The Platform Lifter
includes the following:
- 2 MyLifters
- 2 Smart Tracks
- 2 Power Adapters
- 1 Platform
- Mounting Hardware