{"id":302530560040,"title":"Hard Top Lifter","handle":"hard-top-lifter","description":"\u003cdiv class=\"shogun-root\" data-shogun-id=\"5f4804d866fae600552d61e6\" data-shogun-site-id=\"57e0dc25-ccaa-4d93-bab1-871a60bdbf1e\" data-shogun-page-id=\"5f4804d866fae600552d61e6\" data-shogun-page-version-id=\"60131745aa97fc00594710ff\" data-shogun-platform-type=\"shopify\" data-shogun-variant-id=\"60131746aa97fc0059471422\" data-region=\"main\"\u003e\n \n\u003cscript type=\"text\/javascript\" src=\"https:\/\/lib.getshogun.com\/lazysizes\/2.0.0\/shogun-lazysizes.js\" async\u003e\u003c\/script\u003e\n\n\u003cdiv id=\"s-4e6a2ee8-c197-4e2f-a6b6-d591d163ae21\" class=\"shg-c \"\u003e\n \u003cdiv class=\"shg-rich-text shg-default-text-content\"\u003e\n\u003cp style=\"text-align: left;\"\u003eThe Hard Top Lifter is the smartest, safest, Bluetooth-enabled hoist for heavy hardtops. Control speed, automatic stopping points, and weight limit in the smartphone app to keep your hardtop and anything underneath it safe. The Hard Top Lifter includes Freedom Panel storage that allows your hardtop to get closer to the ceiling and free up even more space in your garage.\u003c\/p\u003e\n\u003cul\u003e\n\u003cli style=\"text-align: left;\"\u003eEasy to install\u003c\/li\u003e\n\u003cli style=\"text-align: left;\"\u003eAutomatically lifts and lowers your hardtop\u003c\/li\u003e\n\u003cli style=\"text-align: left;\"\u003ePrevents hardtop damage\u003c\/li\u003e\n\u003cli style=\"text-align: left;\"\u003eEasily controlled via Bluetooth-enabled device\u003c\/li\u003e\n\u003c\/ul\u003e\n\u003c\/div\u003e\n\n\u003c\/div\u003e\n\n\n\u003c\/div\u003e\n","published_at":"2017-11-30T13:32:21-07:00","created_at":"2017-11-30T13:32:23-07:00","vendor":"MY LIFTER by GARAGE SMART","type":"Lifts","tags":["disclaimer","hard top","Jeep Hardtop Kit","professional-installation","sale"],"price":67900,"price_min":67900,"price_max":67900,"available":true,"price_varies":false,"compare_at_price":null,"compare_at_price_min":0,"compare_at_price_max":0,"compare_at_price_varies":false,"variants":[{"id":32477701341255,"title":"Default Title","option1":"Default Title","option2":null,"option3":null,"sku":"F0035","requires_shipping":true,"taxable":true,"featured_image":null,"available":true,"name":"Hard Top Lifter","public_title":null,"options":["Default Title"],"price":67900,"weight":24040,"compare_at_price":null,"inventory_quantity":831,"inventory_management":"shopify","inventory_policy":"continue","barcode":"850840008052","requires_selling_plan":false,"selling_plan_allocations":[]}],"images":["\/\/cdn.shopify.com\/s\/files\/1\/2233\/6407\/products\/HERO_IMAGE_copy.png?v=1572027999","\/\/cdn.shopify.com\/s\/files\/1\/2233\/6407\/products\/HAL4074.jpg?v=1585335453","\/\/cdn.shopify.com\/s\/files\/1\/2233\/6407\/products\/HAL4174_28695b28-ba59-4b25-9415-9a72eada5491.jpg?v=1585335289","\/\/cdn.shopify.com\/s\/files\/1\/2233\/6407\/products\/HAL4229_6a519b5f-be94-4354-9187-6c4fb353ed84.jpg?v=1585335289","\/\/cdn.shopify.com\/s\/files\/1\/2233\/6407\/products\/HAL4260_b38c1fa3-54e8-4e62-a66d-811c40b0ac2f.jpg?v=1585335290"],"featured_image":"\/\/cdn.shopify.com\/s\/files\/1\/2233\/6407\/products\/HERO_IMAGE_copy.png?v=1572027999","options":["Title"],"media":[{"alt":"Hard Top Lifter with Top","id":5484326256711,"position":1,"preview_image":{"aspect_ratio":1.403,"height":1370,"width":1922,"src":"https:\/\/cdn.shopify.com\/s\/files\/1\/2233\/6407\/products\/HERO_IMAGE_copy.png?v=1572027999"},"aspect_ratio":1.403,"height":1370,"media_type":"image","src":"https:\/\/cdn.shopify.com\/s\/files\/1\/2233\/6407\/products\/HERO_IMAGE_copy.png?v=1572027999","width":1922},{"alt":null,"id":6503167983687,"position":2,"preview_image":{"aspect_ratio":1.0,"height":1202,"width":1202,"src":"https:\/\/cdn.shopify.com\/s\/files\/1\/2233\/6407\/products\/HAL4074.jpg?v=1585335453"},"aspect_ratio":1.0,"height":1202,"media_type":"image","src":"https:\/\/cdn.shopify.com\/s\/files\/1\/2233\/6407\/products\/HAL4074.jpg?v=1585335453","width":1202},{"alt":null,"id":6503161299015,"position":3,"preview_image":{"aspect_ratio":1.0,"height":1061,"width":1061,"src":"https:\/\/cdn.shopify.com\/s\/files\/1\/2233\/6407\/products\/HAL4174_28695b28-ba59-4b25-9415-9a72eada5491.jpg?v=1585335289"},"aspect_ratio":1.0,"height":1061,"media_type":"image","src":"https:\/\/cdn.shopify.com\/s\/files\/1\/2233\/6407\/products\/HAL4174_28695b28-ba59-4b25-9415-9a72eada5491.jpg?v=1585335289","width":1061},{"alt":null,"id":6503161331783,"position":4,"preview_image":{"aspect_ratio":1.0,"height":1591,"width":1591,"src":"https:\/\/cdn.shopify.com\/s\/files\/1\/2233\/6407\/products\/HAL4229_6a519b5f-be94-4354-9187-6c4fb353ed84.jpg?v=1585335289"},"aspect_ratio":1.0,"height":1591,"media_type":"image","src":"https:\/\/cdn.shopify.com\/s\/files\/1\/2233\/6407\/products\/HAL4229_6a519b5f-be94-4354-9187-6c4fb353ed84.jpg?v=1585335289","width":1591},{"alt":null,"id":6503161364551,"position":5,"preview_image":{"aspect_ratio":1.0,"height":2341,"width":2341,"src":"https:\/\/cdn.shopify.com\/s\/files\/1\/2233\/6407\/products\/HAL4260_b38c1fa3-54e8-4e62-a66d-811c40b0ac2f.jpg?v=1585335290"},"aspect_ratio":1.0,"height":2341,"media_type":"image","src":"https:\/\/cdn.shopify.com\/s\/files\/1\/2233\/6407\/products\/HAL4260_b38c1fa3-54e8-4e62-a66d-811c40b0ac2f.jpg?v=1585335290","width":2341}],"requires_selling_plan":false,"selling_plan_groups":[],"content":"\u003cdiv class=\"shogun-root\" data-shogun-id=\"5f4804d866fae600552d61e6\" data-shogun-site-id=\"57e0dc25-ccaa-4d93-bab1-871a60bdbf1e\" data-shogun-page-id=\"5f4804d866fae600552d61e6\" data-shogun-page-version-id=\"60131745aa97fc00594710ff\" data-shogun-platform-type=\"shopify\" data-shogun-variant-id=\"60131746aa97fc0059471422\" data-region=\"main\"\u003e\n \n\u003cscript type=\"text\/javascript\" src=\"https:\/\/lib.getshogun.com\/lazysizes\/2.0.0\/shogun-lazysizes.js\" async\u003e\u003c\/script\u003e\n\n\u003cdiv id=\"s-4e6a2ee8-c197-4e2f-a6b6-d591d163ae21\" class=\"shg-c \"\u003e\n \u003cdiv class=\"shg-rich-text shg-default-text-content\"\u003e\n\u003cp style=\"text-align: left;\"\u003eThe Hard Top Lifter is the smartest, safest, Bluetooth-enabled hoist for heavy hardtops. Control speed, automatic stopping points, and weight limit in the smartphone app to keep your hardtop and anything underneath it safe. The Hard Top Lifter includes Freedom Panel storage that allows your hardtop to get closer to the ceiling and free up even more space in your garage.\u003c\/p\u003e\n\u003cul\u003e\n\u003cli style=\"text-align: left;\"\u003eEasy to install\u003c\/li\u003e\n\u003cli style=\"text-align: left;\"\u003eAutomatically lifts and lowers your hardtop\u003c\/li\u003e\n\u003cli style=\"text-align: left;\"\u003ePrevents hardtop damage\u003c\/li\u003e\n\u003cli style=\"text-align: left;\"\u003eEasily controlled via Bluetooth-enabled device\u003c\/li\u003e\n\u003c\/ul\u003e\n\u003c\/div\u003e\n\n\u003c\/div\u003e\n\n\n\u003c\/div\u003e\n"}
Hard Top Lifter
The Smartest Hardtop Removal and Storage
The Hard Top Lifter makes removing your vehicle's hardtop a one-person job and gives you your garage back with its safe overhead storage capability. All you need to control the Hard Top Lifter is the MyLifter smartphone app on a Bluetooth-enabled device. (The app is compatible with iOS and Android.) As with all Garage Smart products, the patented power passthrough technology allows the Hard Top Lifter to daisy chain with other AC-powered products, making it easy to create a smart garage with limited outlets.
---
Non-Scratch Soft-Touch Parts
Soft-touch straps and felt lining on the lifting frame keep your hardtop scratch free.
Universal Adjustable Frame
The Hard Top Lifter works with all Factory Jeep Wrangler hardtops from 2007 to current models.
Programmable app features prevent accidents and hardtop damage.
---
Do-It-Yourself
Hardtop Removal
Stop using unreliable, unsafe lifting mechanisms and waiting around for helping hands to get your hardtop off. Safely and easily remove your hardtop with a tap on your smartphone. Plus, patented hands-free spooling keeps you from manually pulling and unwinding a tangled cable for smooth, effortless hardtop lifting.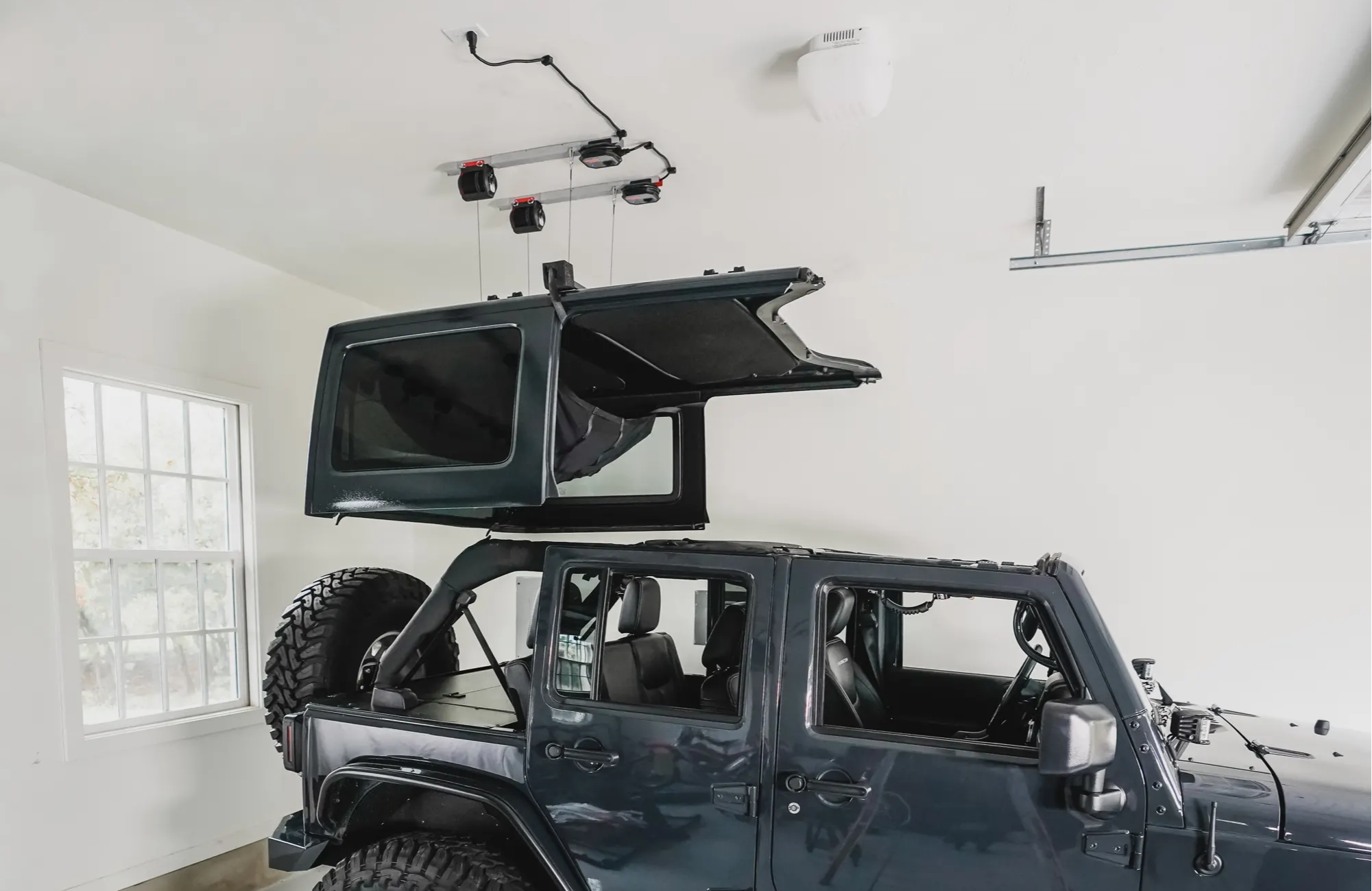 ---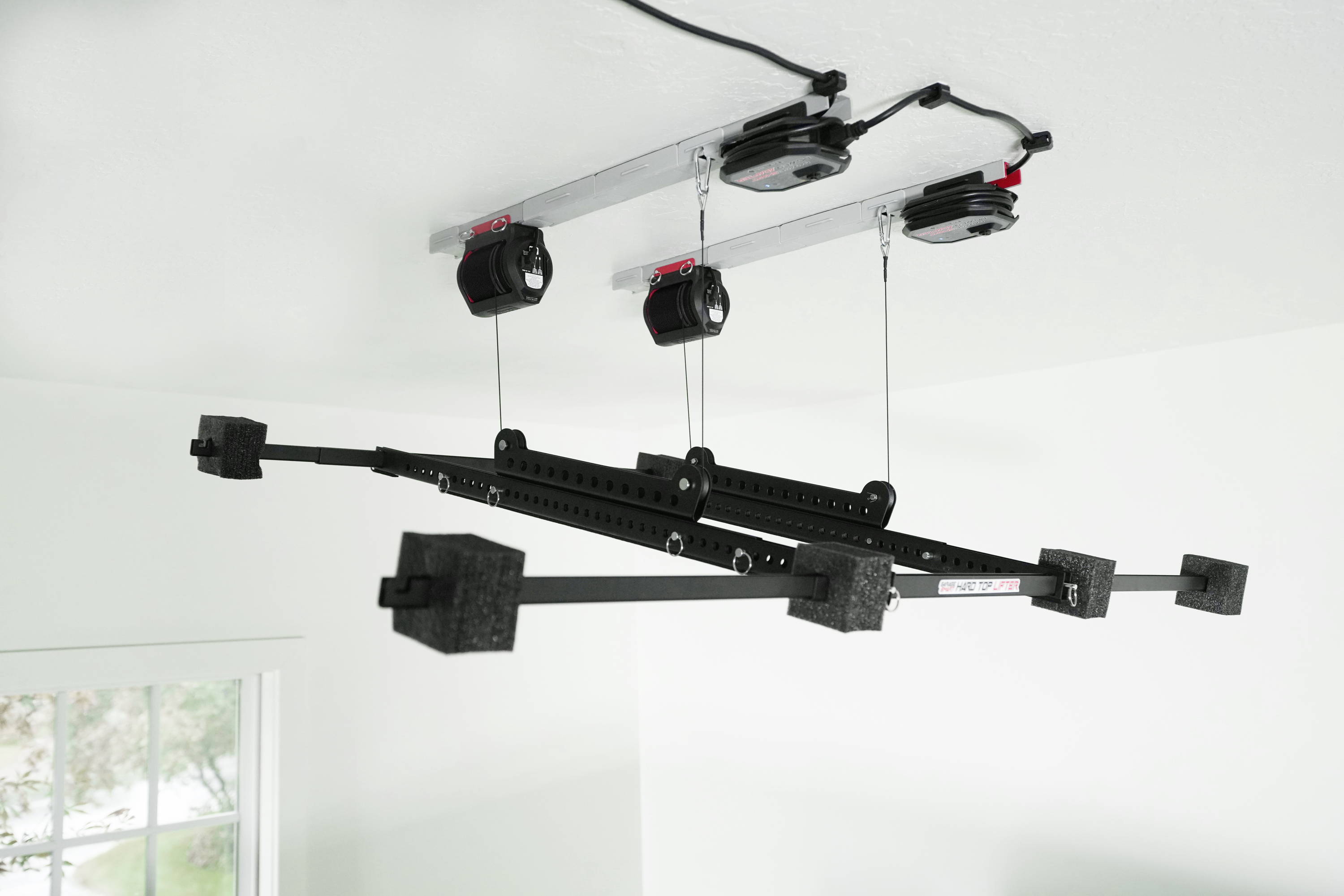 The Hard Top Lifter doesn't just give you easy removal, it also provides a safe and convenient storage alternative to the garage floor. With four stable lifting cables, your hardtop won't spin or twist while suspended and included Freedom Panel storage allows for getting your hardtop about two feet closer to the ceiling than other overhead storage solutions. The Hard Top Lifter is also the only overhead hardtop storage that can be rebalanced and raised close to the ceiling during top-on season, so your lifting frame doesn't provide a hazard in your garage.
---
---
The smartphone app is packed with features designed to keep you and your hardtop safe. Control the speed of the lifter for precise placement and set automatic lift and lower stopping points to eliminate the risk of crashing your hardtop into anything. The lifter will not lift more than its weight capacity and won't attempt to lift your hardtop if bolts, electrical cords, or water lines are still attached to your vehicle.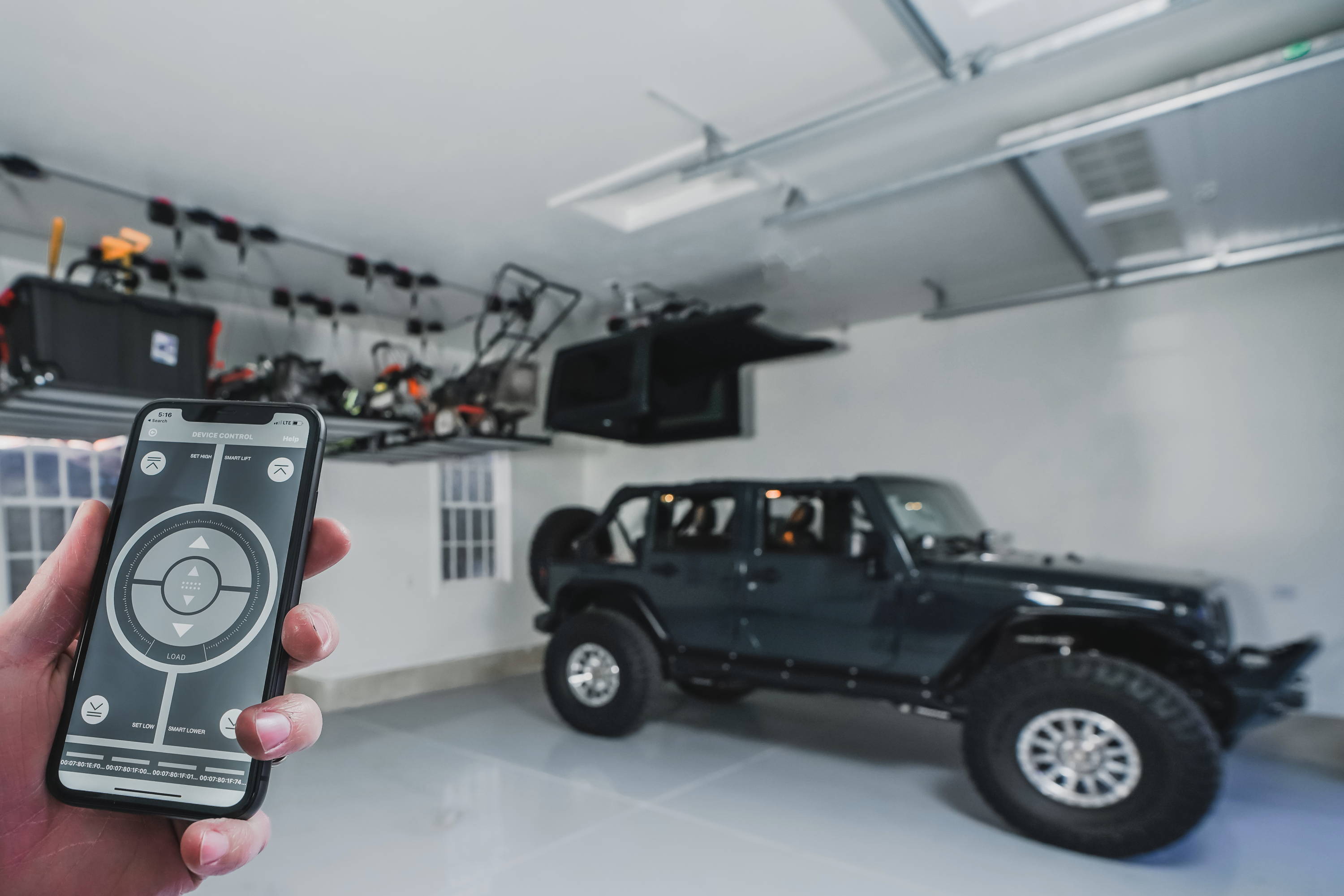 ---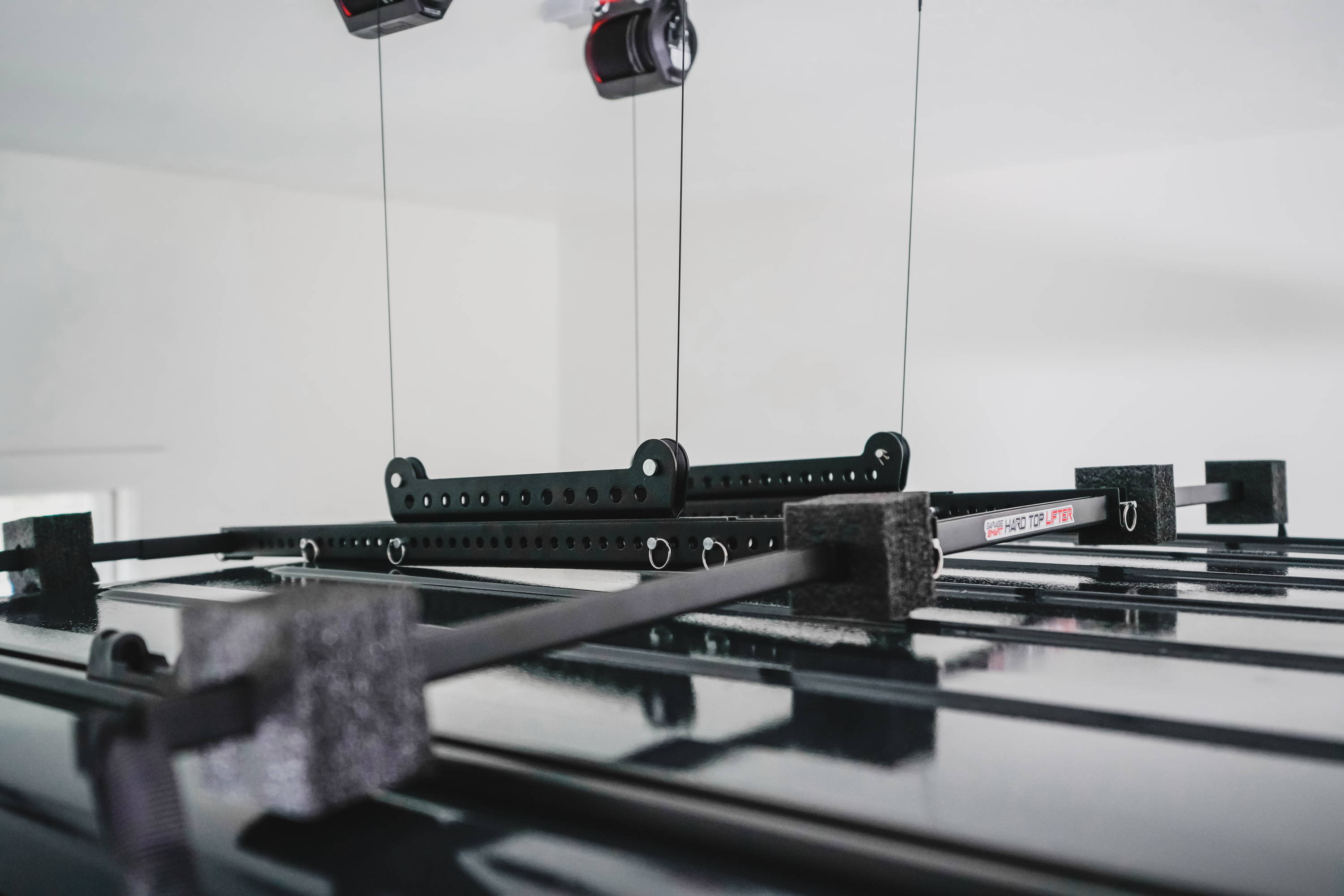 The Hard Top Lifter comes with all of the necessary parts for installation, so you don't need extra hardware or professional installation. Find helpful installation tips and a detailed tutorial video here.
---
---
Works With Garage Smart System
Plug in other Garage Smart products to create your own smart garage. Since most garages rely on one or two outlets, our patented power passthrough technology allows AC-powered products to daisy chain off of just one outlet.
---
---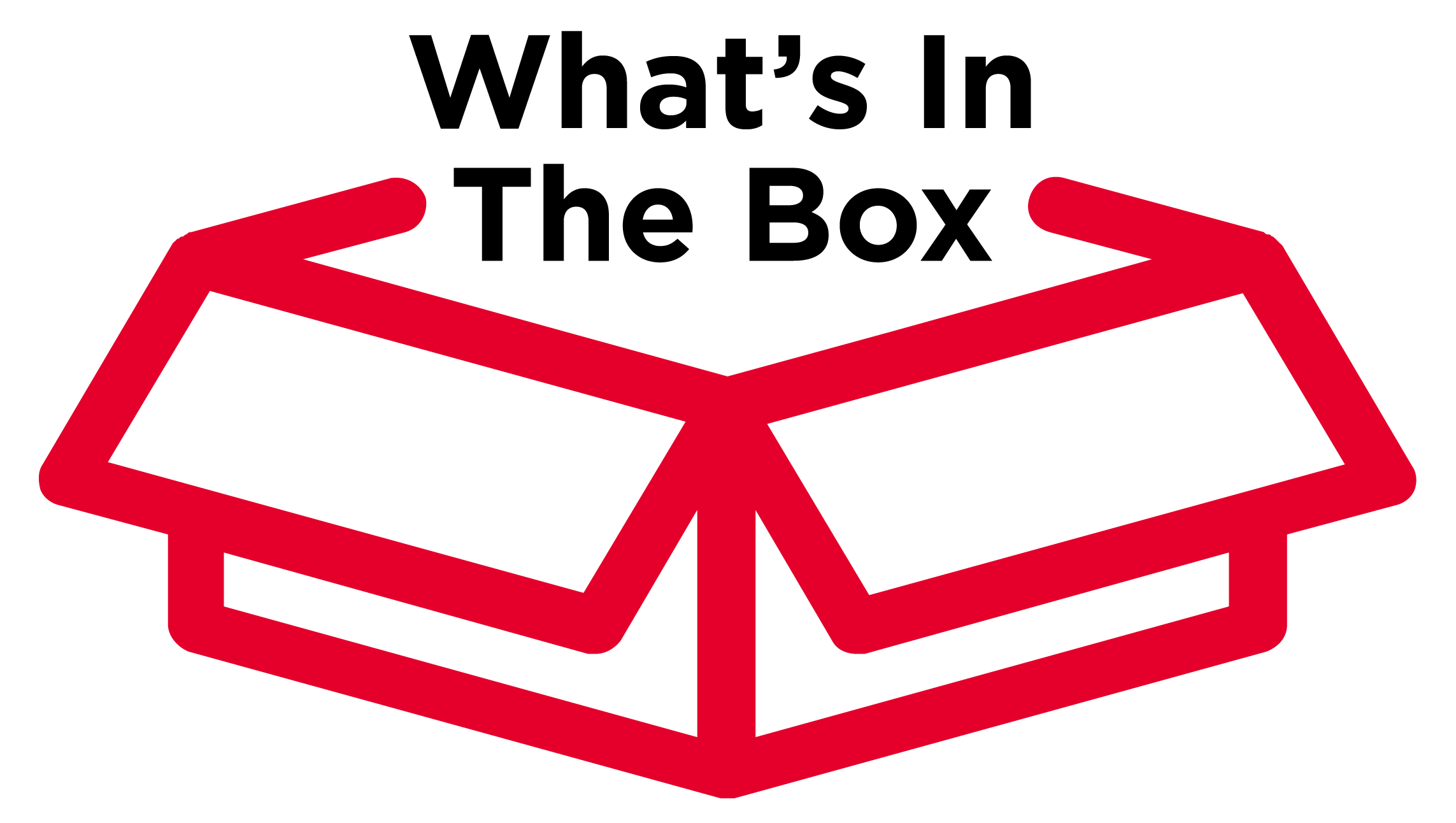 The Hard Top Lifter includes the following:
- 2 MyLifters
- 2 Smart Tracks
- 2 Power Adapters
- 1 DC Cable
- 2 Carabiner Clips
- 2 Ceiling Wire Clips
- 1 Hardtop Bracket
- 1 Cargo Support Net
- Mounting Hardware
- User Manual
---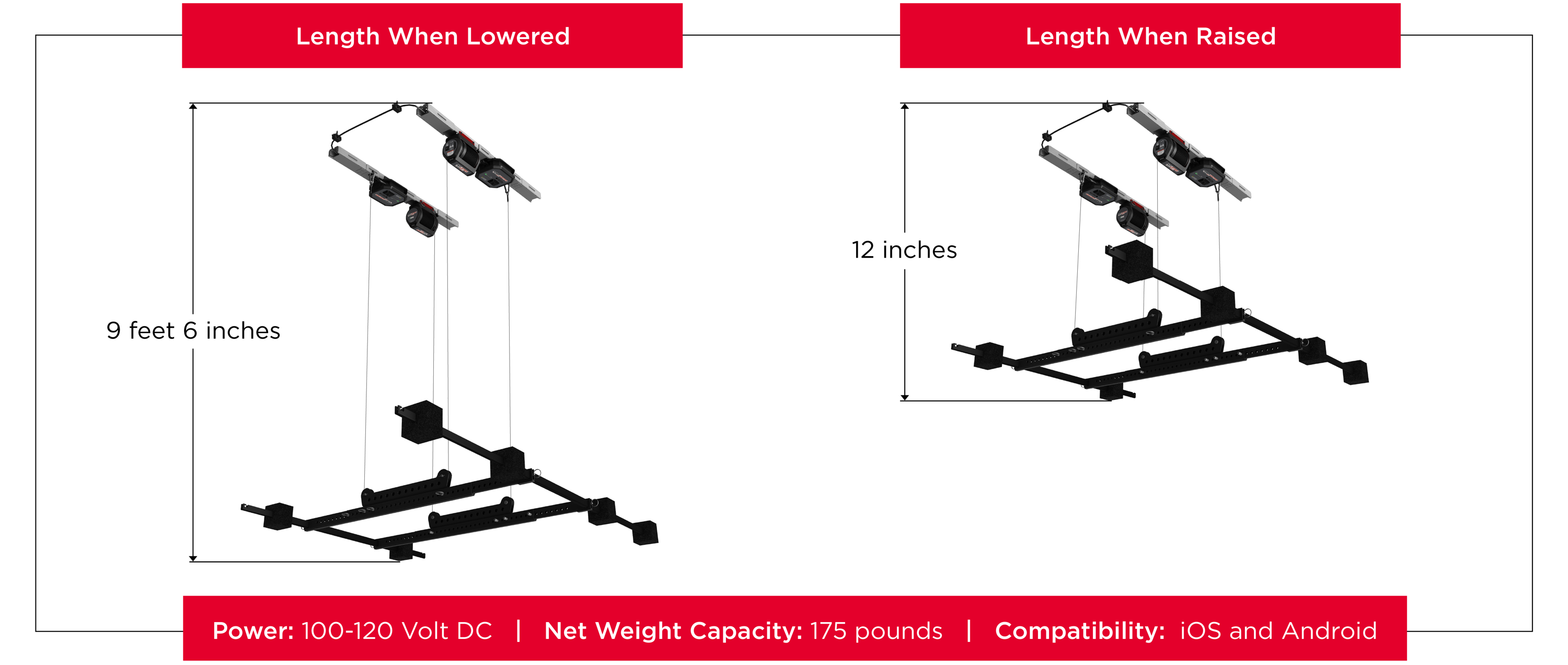 ---